Police are likely to reopen the investigation into the two-year-old murder of popular designer and entertainment promoter Trevor Rose, whose family remains convinced that he was killed because of a woman.
"There is no end to the trauma, the hurt and the memories I live on with and what is more hurtful is that nothing seems to have done about the matter," Lily Brown, known to many as Lily Rose, told Stabroek News recently from her East Street, Georgetown home.
She said since the murder she has not been pushing for justice because she is still hurt. "For any mother who would have lost a child in such manner, and family who would have lost a brother and father, the pain is unexplainable," Lily noted.
Rose was fatally shot on the morning of January 26, 2014, after a lone gunman, in a heavily-tinted vehicle, opened fire on the car in which he was travelling in at Eccles, East Bank Demerara.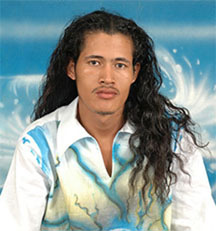 Also injured in the shooting was the driver of the car Rose was in, Troy Nieuenkirk, and Rose's companion, Latoya Towler.  Towler is the mother of one of Rose's children.
Reports had revealed that Rose and Towler were heading to a house in Eccles when the shooting occurred.  The police had said that Nieuenkirk was driving his car when another vehicle drove up alongside and the driver accosted him about how he was driving. "An argument ensued, during which the driver of the other vehicle came out with a firearm and discharged a number of rounds at Nieuenkirk and the other persons in his vehicle after which the perpetrator escaped," the police had added.
A post-mortem examination later revealed that Rose was shot five times. Towler was hit once in the buttocks, while Nieuenkirk was struck in the left shoulder.
Two persons were subsequently held for questioning but were later released. A 9mm. pistol along with 19 matching rounds were also recovered at the scene.
Contacted for an update on the case, Crime Chief Wendell Blanhum said the re-opening of Rose case is inevitable, at which time detectives will re-examine the case file and reanalyse the evidence. He said apart from that, investigators also intend to once again interview the witnesses who were present at the time of the murder. "We are hoping that at the end of this process, we will be able to prosecute the killer, who is still walking free," Blanhum stated.
'Nothing stays in the dark forever'
For the grief-stricken Lily, there is still a little hope given all the cold cases that the police have managed to solve recently. "Nothing stays in the dark forever; somebody will either say or do something eventually that will lead to justice," she said.
She said she is convinced that Rose was killed because of a relationship he was sharing with a married woman, whose husband she believes plotted the murder. While she was never successful in hearing directly from Rose about the relationship, she recalled that he had taken the woman to her home on one occasion but introduced her as a friend. "She came to my house to alter two dresses and he told me don't let anyone harass this girl when she come home here because it's a good friend of his… but he never told me to my face that they were together," Lily explained. She said though that she was suspicious but could not think of any reason why her son would have wanted to hide the relationship from her.
She said at one point in time she was told that the communication between Rose and the woman was tapped, which may have triggered her son's killing. "I am not saying my son was an angel or a saint, but for sure he was not a criminal," the mother declared.
She said she and her family have a fair idea of what exactly happened and who was behind crime but they are scared to speak out because of their fear for their safety. "I am fearful because they might want to come behind my other children and even my grandchildren," Lily said.
According to her, the police only visited her house on one occasion and since then there was not a single call or visit to at least say investigations are ongoing and the matter is still alive.
She said they plan on approaching the relevant authorities soon to address the matter. She is awaiting the arrival of her daughter to do so. "I want to go yes but I can't muster that courage and strength to do so," she explained.
As the independence celebrations approach, Lily said she can't help but think of what her son, known for designs for many float parades, would have been doing. "It's like I could picture how far he would have been with his career by now. He had plans," Lily said.
"There are some days that I am so down and depressed of the fact that I have lost my son and he is never going to come back so I can hug him and tell him how much I love him," she added, while fighting back tears.
Around the Web