Tambico McKenzie, one of the men who was allegedly run over by a woman who police say he robbed, maintained his innocence on Friday, while saying that he had enough money to buy anything he wanted.
McKenzie and co-accused William Evans are charged with attacking Marissa Hohenkirk with a knife and robbing her of an iPhone, a gold chain, a gold and diamond ring and three gold bands, all totaling $370,000 in value, on February 9, 2015, at Cane View Avenue, South Ruimveldt Park.
Police had said that after Hohenkirk was robbed, she pursued the men in her car and ran into them, which led to their arrest.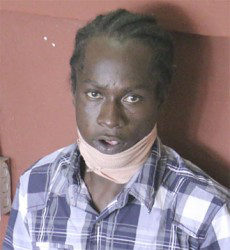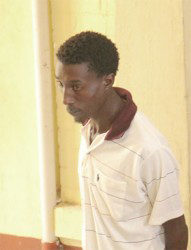 Under cross-examination by Police Prosecutor Kerry Bostwick on Friday, McKenzie maintained that on the day in question he had been standing outside of Cevons Waste Management Company awaiting a bus when he was arrested. The prosecutor suggested that he was arrested in an abandoned house.
When questioned about when he first saw Hohenkirk, McKenzie told the court that it was at the East La Penitence Police Station. He denied seeing her on the date the alleged robbery occurred.
Asked if he was familiar with the call name "Bolo," which the prosecutor said was a name that he was known by, the defendant stated that he was not called "Bolo." When pressed further on why he made no objection to the name during the testimony of a police witness, McKenzie told the court that he did not object because he wanted the magistrate to hear everything until he was given his chance to speak.
Prosecutor Bostwick, during a series of questions, suggested to the defendant that the reason why he robbed the complainant was because he was short of funds. This suggestion was adamantly denied by McKenzie, who stated that if he had wanted anything to purchase, he could have easily done so with the funds that he had.
At the end of McKenzie's testimony, his attorney, Dexter Todd, told the court that they will be calling one witness.
The matter was then adjourned by Magistrate Judy Latchman to May 17.
Around the Web