In observance of Guyana's 50th Independence, the students of the Cyril Potter College of Education (CPCE) and their lecturers staged a costume parade on Friday in Cummings Lodge and its environs, on the East Coast of Demerara.
The parade was staged under the theme, "Reflecting on Fifty years of Success: Modernising Education in Guyana."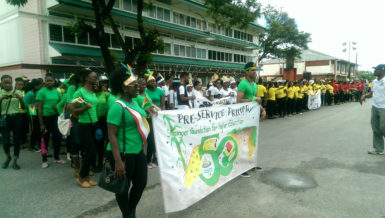 Jomo Tobin, one of the coordinators of the parade, told Stabroek News that the students decided upon the parade to show their support in the communities. "At CPCE, we are concerned about the community and its development and so we will parade throughout the community," Tobin told Stabroek News.
Tobin described the participation in the activities from both the resident and non-resident students of the school as good, since they went above and beyond to make the activities a success.
A few students from the Cummings Lodge Secondary School also joined the parade. Tobin said he was very grateful for this as the college does its part in the golden jubilee celebrations.
He also lauded the contributions that were made by the students on the previous night when the college also held its Jubilee Night of Reflections, which focused on culture.