Oudit Chinapen, who allegedly caused the accident that resulted in the driver for the Speaker of the National Assembly losing his left arm, yesterday faced two charges and was released on $20,000 bail after pleading not guilty.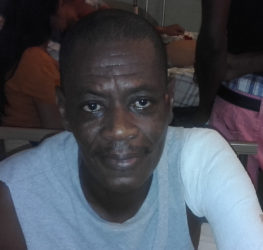 It is alleged that on March 27, Chinapen, 46, of J16 Chateau Margot, drove motor vehicle PNN 4754 in a manner dangerous to the public. It was also alleged that due to the accident injuries were caused to Anthony Seals but Chinapen failed to render assistance by taking him to a registered medical practitioner for medical treatment. Chinapen pleaded not guilty to both of the charges when they were read to him by Magistrate Zamilla Ally-Seepaul.
Attorney Gwendolyn Bristol, who represented Chinapen, made an application for bail, to which Police Prosecutor David Goodridge had no objections.
Magistrate Ally-Seepaul set bail for Chinapen at $10,000 for each charge and adjourned the matter until July 7 for report.
Seals, who had also been driving, had said he observed a vehicle swerving in and out of traffic at Chateau Margot. According to Seals, the car hit his truck's front wheel, causing it to turn on its side. As a result, Shields's left arm was crushed and had to be amputated.
Around the Web