There is concern at the writing off of $2.5 million owed to the state broadcaster NCN by Merundoi Inc whose Executive Director Margaret Lawrence sits on the NCN Board but NCN's Chairman Bish Panday says the settlement is not the public's business.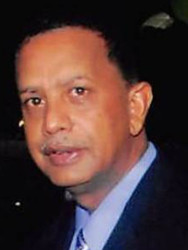 A source close to NCN told Stabroek News that some members of the Board found it a conflict of interest that a settlement was reached with Merundoi and not with other debtors and believe that it is because Lawrence sits on the Board.
When contacted yesterday, Lawrence declined to comment while NCN Chief Executive Officer (CEO) Lennox Cornette directed Stabroek News to Panday, who said the settlement was not the public's business. "That is a matter for NCN and the Board and a matter for NCN and Merundoi," was his terse remarks when contacted.
Merundoi Inc, which produces the popular radio serial of the same name, owed $2.7 million to NCN for services provided, an audit last year had revealed.
Stabroek News understands that while NCN moved to the court to collect the monies, a settlement was reached this year where NCN would cancel $2.5 million of the debt owed if Merundoi paid $200,000.
Contacted on the matter and the conflict of interest concerns, Lawrence responded: "I have no comment on the issue." She subsequently called back to find out if this newspaper had spoken to Panday and after this was affirmed, she hung up her telephone.
The NCN Board had previously been criticised for its appointment of Cornette, who admitted to forgery of a signature, which led to his exit from the Guyana Telephone and Telegraph Company (GTT). This led to the resignation of one Board Director, Imran Khan, who called the decision reckless and imprudent.
Around the Web