Repeat scammer Gopaul Tiwari was last week sentenced to 54 months in prison after he changed his plea to guilty on charges of uttering forged documentation, fraudulent conversion and conspiracy to commit a felony.
Tiwari, 48, received a sentence of 18 months on each of the three charges, which will run concurrently.
When the defendant appeared before the court on May 13, it was alleged that between April 1 and May 28, 2015, at Georgetown, with the intent to defraud, he conspired with a person or persons unknown to forge a transport stating that it was issued by the Deeds Registry.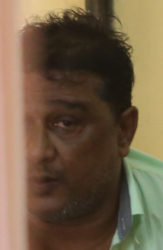 It was further alleged that on May 28, 2015, at Eccles, being entrusted with the sum of $10,400,000 in order to pay same to the Deeds Registry at Georgetown, property of Ghardarie Sewnarine, he fraudulently converted the money. On the same day and at the exact location, it was stated that Tiwari, with the intent to defraud, uttered to Sewnarine a forged transport, stating same was issued by the Deeds Registry in Georgetown, although he knew it was forged.
The allegations were read to him by Magistrate Judy Latchman, who granted him bail in the sum of $1,300,000.
On that day, it was also alleged that on May 9, at Diamond, East Bank Demerara, Tiwari unlawfully and maliciously discharged a loaded firearm at two constables, with the intent to resist or prevent lawful apprehension. Tiwari maintained his not guilty plea for those charges and the matters have been adjourned to June 8.
In March 2009, Tiwari was accused of obtaining a total of $320,000 from two men ($160,000 each) by pretending that he was in the position to provide them with American visas and jobs when they got to the US.
Although he pleaded not guilty, he told the court he wanted to resolve the matter by compensating the victims $50,000 each, to which they agreed. Tiwari was then ordered to pay court costs of $10,000 by then Acting Chief Magistrate Melissa Robertson and placed on a bond to keep the peace for two years.
In October of that very year, he made an appearance before that very magistrate, where it was alleged that he obtained over $400,000 from a woman under the pretence that he could import a car for her. The prosecution told the court that Tiwari had done the same to the woman's brother and the matter was pending before the Vreed-en-Hoop Magistrate's Court.
Tiwari denied the charge and stated that he was not a "fraud man" and that "de police is deliberately doing this to keep me imprisoned." He once again asked that he be allowed to compensate the complainant, and was remanded to prison so he could do so on his next return to court.
In June 2014, he pleaded guilty to nine counts of fraud, having indicated that he was "turning over a new leaf." Tiwari was sentenced to two years imprisonment on eight of his charges with a three-year sentence for one, racking up 19 years in total. The sentences, however, were set to run concurrently.
Around the Web