Continuous rainfall in the Matarkai Sub-District of Region One (Barima-Waini) has reduced an already deplorable Matarkai access road to an impassable slush dam posing difficulties to those who traverse the roads in the area.
One such resident is Pearly Welcome, who just last week lost both her trucks after they were involved in separate accidents. She said she believed the accidents could have been avoided had the road been in better condition.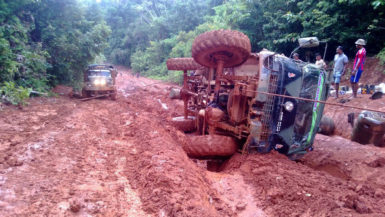 Speaking with Stabroek News, the woman who is a resident of Port Kaituma, explained that prior to the accidents, the trucks were used to transport groceries and fuel supplies to the satellite villages of Baramita, Arakaka and several locations where gold mining is done.
It was during one of those journeys last week Monday that the first truck, which was being driven by her son, encountered a bridge in the vicinity of an area known as Falls Top, somewhere between Port Kaituma and Mathew's Ridge. Welcome related that when the truck attempted to cross the bridge, the structure which was said to be deteriorating, caved in causing the truck to topple.
Luckily, neither her son nor the other workers who were in the truck at the time, were injured. However, she noted that the truck "write off" as it can no longer be used as a result of the extensive damage…..