Chief Executive Officer (CEO) of the Central Housing and Planning Authority Myrna Pitt has resigned from her post.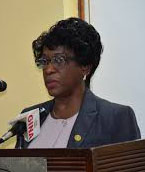 This was confirmed last evening by Chairman of the CH&PA Board Hamilton Green.
Green noted that Pitt yesterday submitted to the board her resignation which will take effect from July 13, 2016.
Asked if Pitt, who has held the post of CEO for more than a decade gave a specific reason for her resignation, Green said no.  Pitt could not be contacted for comment.