A Route 40 minibus driver plans to take legal action against several traffic ranks of the Brickdam Police Station after he was allegedly beaten and left with a dislocated shoulder and bruises to the body.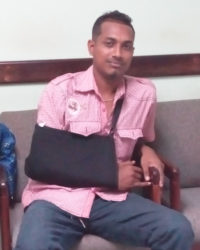 The incident, which occurred on Monday night, started in the Stabroek Market area and ended near the Brickdam Police Station. When the driver Semong Sawh spoke to Stabroek News on Wednesday in the presence of his attorney Glenn Hanoman, his right hand was in a sling and he was in pain. The sling has to be worn continuously and ice applied to the dislocated shoulder regularly.
Stabroek News was shown pictures of the bruises that the….