The Guyana Police Force's Office of Professional Responsibility (OPR) has launched an investigation into allegations that traffic ranks physically assaulted a minibus driver resulting in the man sustaining a dislocated shoulder and bruises to the body.
Stabroek News had reported last Friday that Route 40 driver Semong Sawh plans to take legal action against several traffic ranks of the Brickdam Police Station after he was allegedly beaten by them and injured. Stabroek News had contacted Divisional Commander Clifton Hicken regarding the incident but he had indicated that he was unaware of it and urged that Sawh visit him to lodge a formal complaint.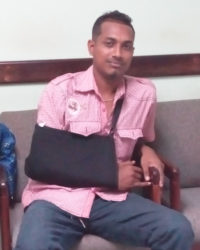 Yesterday, in a statement, the police said an investigation has been launched by the OPR based on the Stabroek News article "which purports that members of the Force were exceedingly less than professional in their handling in what appears at face value to have been the commission of minor traffic offences." The statement said that notwithstanding the OPR probe, "the driver in question seems to have misconducted himself and in so doing aggravated the circumstances, thus resulting in several charges being preferred against him in court."
It informed that Sawh has since been contacted and a detailed statement obtained, chronicling the entire episode. According to the statement, the Force is not averse to members of the public "who are aggrieved by the seemingly unprofessional behaviour of its members, but it is unfortunate that one side of the story highlighted in press, drives such a perception."
Stabroek News understands that Sawh was slapped with nine charges and appeared in court last Thursday. After hearing the case, the magistrate granted him bail totalling $50,000.
Sawh had recounted to this newspaper how an exchange with a policewoman in the Stabroek Market area near the bus park led to him being attacked allegedly by a group of police ranks who attempted to pull him from his minibus damaging his driver side door in the process. He said he was hit repeatedly and sustained injuries and an x-ray done at a private hospital after he was released on station bail showed that a shoulder was dislocated.
Around the Web