A businessman was yesterday sentenced to two years imprisonment and fined $100,000 after being found guilty of illegal possession of a firearm and ammunition.
Orondel McKoy was charged on October 26, before Chief Magistrate Ann McLennan with having in his possession, on October 23, 2015 at William Street, Campbellville, a 9 mm pistol and 15 live rounds of matching ammunition without being the holder of a valid firearm licence.
Magistrate Fabayo Azore found, after examining the facts presented, that the defendant alone had access to the shop where the firearm and ammunition were found and that the defendant should be held responsible.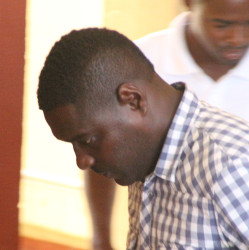 The 34-year-old was then found guilty of the offence and sentenced to two years imprisonment on each charge along with a fine of $50,000 for each charge.
It was stated that the two years will run concurrently which will see McKoy only serving 2 years.
An application for bail pending appeal was requested by the defendant's attorney Peter Hugh but this request was not granted by the magistrate.
It was previously reported that the gun and ammunition were found in the cupboard of one of the shops the defendant operates, and that the shop is sometimes run by other individuals as he is usually split between there and another shop in Orange Walk.
However, the prosecution had stated that before the discovery was made, McKoy was asked if he was the only person who ran the shop and he confirmed that he was the sole operator of the business. Police Prosecutor Neville Jeffers added that when the gun and ammunition were discovered, McKoy was the only person present.
Around the Web