While seeking to ensure a reliable electricity supply, the Guyana Power and Light Incorporated (GPL) has set its sights on having over 30% of its generation from renewable energy sources by 2020, according to Board Chairman Robert Badal.
"As part of a strategy to diversify the energy mix, and you know Guyana has tremendous potential in renewables, particularly and wind and  solar, so in this regard, we currently have a target of within the next two years we should have around 15% of our power generated from renewables and within  five years greater than 30%. That is our objective," Badal told Stabroek News in an exclusive interview.
The Board Chairman explained that under the David Granger-led administration, the Board was given the mandate to direct policies and strategies and further execute programmes in keeping with the APNU+AFC's green economy initiative and to ensure greater reliability of the electricity supply at competitive prices.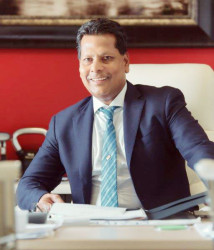 "We recognise that our focus must be on the customer, to enhance customer service, ensure customer satisfaction, improve the quality of the power supplied… and its reliability. In doing so, the company will ensure there is adequate generation of power… [and] going forward we see us moving more in the direction of renewables, specifically solar and wind," Badal asserted.
He said the government will simultaneously be looking at a number of smaller hydropower options, which are cheaper in terms of investment, as it believes that hydropower will always have an integral role in power generation.
And although Guyana is slated to become an oil producing country, Badal explained that the focus will still be on renewable energy sources. "Hydro, solar, wind—that is direction the world is going to save the planet. To have clean and green energy and that is the strategy articulated by the president—having a clean green economy—and we are focused on that," he said.
He added that he did not want to give his personal opinion on the controversial Amaila Falls Hydropower Project as he does not have all the data to analyse and will await government's decision on the way forward on it.
Badal, who is also a businessman and hotelier, pointed out that while renewable energy sources are available, the only setback seems to be finding investments to tap into these sources. Nonetheless, he said GPL is in the meantime setting the infrastructure to make its green objectives a reality.
Essequibo pilot
Essequibo will serve as the site for GPL's pilot renewable energy distribution project as the demand there is only 5MW of the country's 110MW. GPL is currently replacing the country's two generators with modern ones to act as a  back up supply. "The demand on Essequibo is 5MW. We will combine that with an investment in renewables for the 5MW. So we want to have Essequibo on renewables then other areas (across the country)," Badal explained.
With US$191M available for a five-year development plan, including US$64M from the IDB and EU in loan and grant form, respectively, GPL has begun its transitioning, Badal said.
"We have a five-year plan of $191M US… a rolling five-year development and expansion programme. Included in that is additional generation to retire old units, installing redundancy transmission lines, upgrade the network, in addition to improving office facilities, staff training, particular focus is being placed on the national grid, which is the transmission and distribution network," he stated .
"Included too, in the five-year plan is an IDB/EU funded $64.5M US—IDB loaning US$37.6M and EU gave a grant of US$26.9M—[programme].  It is a very important programme, aimed at strengthening management capacity, in all functional areas, focusing on executive and senior management. There will be classroom sessions with experts in every area of function at GPL… a part of the IDB/EU [programme] is to improve operational efficiencies by implementing current technologies in the area of inventory control, control over the grid, SCADA (Supervisory Control and Data Acquisition). Planning, demand planning, all these kinds of things," he added.
But the major part of the programme involves infrastructure, Badal noted, while mentioning the renewal of the low voltage distribution lines, procuring 54,000 smart meters and making the grid more reliable from both technical and commercial losses, which currently amount to just over 29%.
"Unless we have a very efficient grid, we will always have problem with blackouts and with customers. So, our focus right now is to modernise the grid, moving towards a smart grid. Progressively people should see less blackouts…already, we have seen less voltage fluctuations. While currently we have adequate generation of power, we are still constrained in delivering that power effectively by inadequacies in the transmission and distribution system," he said.
"[With] such investments in the grid, our objective is to create a smart grid with the technology to deliver quality electricity, interface with customers, [and] address problems in real time. Otherwise, the cycle of blackouts would continue. We are very mindful of the pain that customers who are the ultimate [victims of] blackouts and low voltage and so forth face. We are attending to these issues on a day-to-day basis but we also intend to use technology to address those problems," he added.
'No increase'
The GPL Chairman virtually ruled out an increase in tariffs this year and pointed to the reduction—five percent in tariff and 20 percent in rebates—given to customers after revising the tariff earlier this year. He said even if fuel goes up, at a worst GPL might need to adjust those figures marginally. "There is no intention whatsoever, as far as I can see, that there will be a tariff increase this year. If prices remain and we can achieve the reduction in losses and be more efficient in terms of our administration, who knows? We might facilitate a reduction at current prices. …GPL is about the customer and if we make it more affordable, it will stimulate more business…," Badal stressed.
Part of interfacing more with the customer will also see GPL requesting customers' online registration for billings and notifications and it is asking for mobile numbers to store in its database to give alerts about due dates for bills and promotions.
"We are trying to have them register on our website, so that they can get it in their email. We are asking that they give us their mobile numbers so we can interface through text.  So before somebody is disconnected, they will receive a text warning, saying 'please pay within one week,' rather than we go and disconnect like that. Because people may be busy, and there might be innocent reasons they didn't pay.  We are moving to the area of technology to make our system more responsive and efficient where customer service is concerned," the Board Chairman asserted.
Around the Web