By Bebi Oosman
As their losses mount from the deaths of hundreds of chickens and ducks due to a still unknown disease, farmers in the East Bank of Berbice are impatient for answers and, more importantly, help.
"It just a kill them out, mostly them roosters," farmer Mohan Sookhoo, of Deutichem Village, told Stabroek News.
He stated that he and family members have been poultry farmers for most of their lives and they have never seen such an outbreak.
Farmers reported that the affected animals are not dying immediately; they stop moving and their heads fall to the ground with their eyes closed.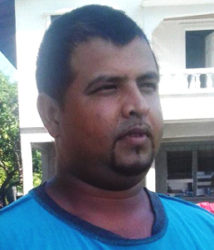 Sookhoo stated that 10 to 20 birds are usually affected at any one time. He said that he attempted to treat his livestock with drugs from the pharmacy but was unsuccessful. He has lost thirty chickens so far. Other farmers, who did not want to be named, counted their losses in the hundreds.
"Let them help we find what causing it, so we could know what to do when it happen or how to prevent it," a farmer said, while calling for the Ministry of Agriculture to look into the situation and provide assistance…..