Convicted fraudster Gopaul Tiwari, who was on trial for shooting at police, was yesterday cleared of the charges by a city magistrate due to a lack of evidence.
Tiwari and his sister left the courtroom in relief after magistrate Judy Latchman found that a prima facie case was not made out against him.
Tiwari, however, remains a prisoner as he is due to spend 18 months in jail after being convicted last month for uttering forged documentation, fraudulent conversion and conspiracy to commit a felony.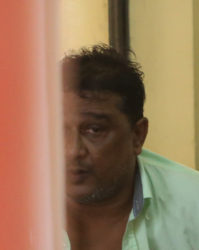 After hearing the testimony of witness Imran Khan, whose car was used by the police to follow Tiwari when he allegedly escaped after firing at them, Magistrate Latchman said that there was no evidence against Tiwari. She noted that though the prosecution claimed that Tiwari had a gun, it was never found by the police and, therefore, it was not presented in court.
Magistrate Latchman highlighted several other pitfalls in the prosecution's case which led in her decision to have the charge against Tiwari being dismissed.
Before the ruling, Tiwari told the magistrate that he felt that the police had no case against him. He said that the specialist who allegedly dusted for fingerprints and gunshot residue on his clothes did not even show up in court. Throughout his trial, Tiwari equipped himself with a colour-coded map of the area where the event in question occurred, and models of two cars, which appeared to be fashioned from cardboard, all to prove his innocence. The policemen who alleged that Tiwari shot at them also provided conflicting evidence when they took the witness stand on Thursday.
The charges against Tiwari stated that on May 9, 2016, at Diamond, East Bank Demerara, he unlawfully and maliciously discharged a loaded firearm at two police ranks. Tiwari had pleaded not guilty to the charges.
Around the Web