(Reuters) – Virat Kohli made history by scoring his maiden test double century as India played their way into a virtually unbeatable position on the second day of the first test against West Indies in Antigua today.
Captain Kohli became the first Indian captain to post a test double century overseas, scoring 200 out of 566 for eight declared.
Kohli shared a 168-run stand for the fifth wicket with Ravichandran Ashwin (113) who was dropped on 43 by keeper Shane Dowrich and made the West Indies pay by compiling a century.
West Indies were 31 for one in their first innings at the close of play with Kraigg Brathwaite (11) and nightwatchman Devendra Bishoo (0) at the crease.
Rajendra Chandrika went for 16 in the penultimate over of the day when he got a thick edge to the keeper off paceman Mohammed Shami.
The day belonged to Kohli who completed his double ton just before lunch by pulling a single to deep mid-wicket.
He went down on his knees and kissed the turf as retired West Indies great Viv Richards, after whom the venue in North Sound is named, joined in the applause from the stands.
Kohli, who struck 24 fours in 283 balls, was out shortly after lunch when he got a thick inside edge on to his stumps off fast bowler Shannon Gabriel (2-65).
Leg-spinner Bishoo (3-163) looked dangerous at times but for the most part the home attack posed few problems for the batsmen on a flat track.
Ashwin, who registered his third test century, said a more disciplined approach was the key to his success.
"I've been looking forward to this opportunity," he said in an on-field interview after being promoted to number six in the order. "I really enjoy my batting and there have been times in the past when I've been a little too flashy.
"I know if I have to get into the top seven or six I really need to tighten my game so I've really worked on it. I've never left so many balls (outside off stump) in my life."
India's total left West Indies looking to occupy the crease for three more days to squeeze a draw in the first of four tests between the teams.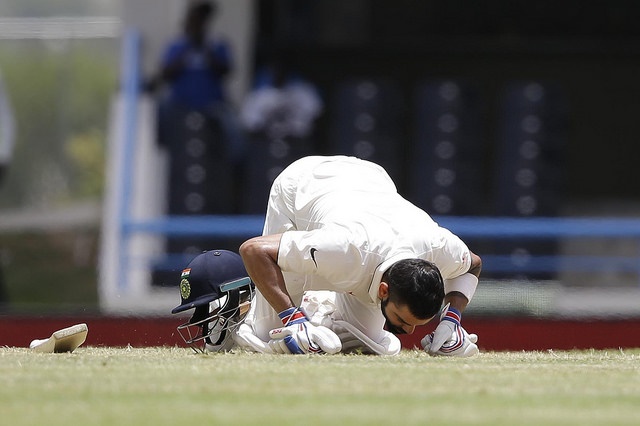 "It's not going to be easy. We'll have to prise every wicket out," said Ashwin.
Scoreboard
INDIA 1st innings
(overnight 302 for four)
M Vijay c K Brathwaite b Gabriel 7
S Dhawan lbw b Bishoo 84
C Pujara c K Brathwaite b Bishoo 16
*V Kohli b Gabriel 200
A Rahane c Bravo b Bishoo 22
R Ashwin c Gabriel b K Brathwaite 113
+W Saha st Dowrich b K Brathwaite 40
A Mishra c Holder b K Brathwaite 53
Mohammed Shami not out 17
Extras (b6, lb2, nb6) 14
TOTAL (8 wkts decl.,161.5 overs) 566
Did not bat: I Sharma, U Yadav
Fall of wickets: 1-14, 2-74, 3-179, 4-236, 5-404, 6-475, 7-526, 8-566.
Bowling: Gabriel 21-5-65-2 (nb4), Holder 24-4-83-0 (nb2), C Brathwaite 25-5-80-0, Chase 34-3-102-0, Bishoo 43-1-163-3, K Brathwaite 14.5-1-65-3.
WEST INDIES 1st innings
K Brathwaite not out 11
R Chandrika c wkp Saha b Mohammed Shami 16
D Bishoo not out 0
Extras (lb1, w1, nb2) 4
TOTAL (1 wkt, 16 overs) 31
To bat: DM Bravo, M Samuels, J Blackwood, R Chase, +S Dowrich, C Brathwaite, *J Holder, S Gabriel
Fall of wicket: 1-30.
Bowling: Sharma 6-3-12-0 (nb2), Yadav 4-3-5-0, Mohammed Shami 3-0-6-1 (w1), Ashwin 3-1-7-0.
Position: West Indies trail by 535 runs with nine wickets standing.
Toss: India.
Umpires: Aleem Dar, I Gould; TV – G Brathwaite.
Around the Web