Emergency work on the Matarkai road has stalled owing to the inclement weather, Chairperson of the Matarkai Neighbourhood Democratic Council (NDC) Margret Lambert has said.
This comes one week after the NDC promised to carry out emergency work on the road which has been the centre of frustration for residents in the Port Kaituma area.
Lambert yesterday related that while the promise was to have a team commence short-term work on the road, beginning at Citrus Grove and extending to Fitzburg, to offer some relief to residents, rainfall has since impeded those plans.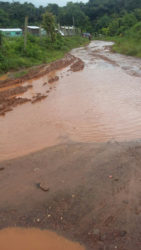 However, she said, the work will commence as soon as good weather presents itself as the necessary machinery has already been procured and is on standby.
In the meantime, residents remain hopeful that the NDC upholds its promise. In the event that it does not, some residents have stated that they will stage another protest, since the condition of the road continues to worsen daily and more so when it rains.
The commitment to carry out emergency work on the road was given by the NDC after representatives from the Ministry of Communities visited the area to assess the situation and engage residents in discussions for a possible solution to the long-standing issue.
The team had comprised Ministerial Liaison Mark Crawford; Principal Regional Develop-ment Officer Surendra Khayyam; Project Manager Naeem Khan; Member of Parliament (MP) Richard Allen and officials from the region.
Following the meeting, Stabroek News was told that having been granted $4.2 million in subventions for this year, the NDC promised to carry out remedial work on the road.
Additionally, residents were also made aware of Cabinet's approval for the award of $58 million in contracts to two contractors for the rehabilitation of the road.
Almost three weeks ago, Cabinet announced that it had cleared a $30.8 million contract to Vijay Persaud and Sons Contracting Services for the stretch of road from Port Kaituma to Matthews Ridge. Also given the go-ahead was a $28 million contract to V Dalip Enterprise for the Matthews Ridge to Baramita road.  No commencement date was given.
Meanwhile, the Ministry of Communities also issued a statement which indicated central government's commitment to work within the parameters of its financial resources to address the challenges faced by residents.
"We are prioritising the most critical areas. In my estimation, this road falls within that priority range and so within our budgetary allocation we are prepared to make an emergency intervention," Minister of Communities Ronald Bulkan had said in the statement.
Around the Web