By Bebi Oosman
The bodies of two men and a teenage boy, bearing gunshot wounds, were discovered yesterday at Mibicuri Creek, Black Bush Polder and police had one person in custody up to late last night facing questions about their shocking deaths.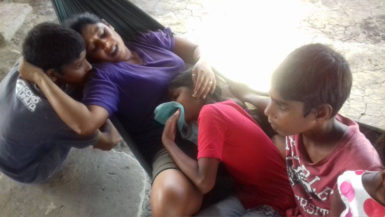 The dead have been identified as rice farmer Pawan Chandradeo, 37, and his 15-year-old son Jaikarran Chandradeo, of 163 Mibicuri North, Black Bush Polder, as well as the senior Chandradeo's brother-in-law Naresh Rooplall, 33, of Number 75 Village, Corentyne. Chandradeo and his son sustained gunshot wounds to their heads, while Rooplall was shot to his neck. Police, in a brief statement, said each body bore a single gunshot wound.
Commander of 'B' Division Ian Amsterdam told Stabroek News last evening that one person was currently in custody assisting with the investigation. Amsterdam stated that ranks will return to the crime scene today in search of more clues and to gather more evidence as the investigation continues.
This newspaper was also told that while several persons were detained for questioning, they were released yesterday afternoon. The man in custody is said to be another rice farmer who has a camp in the area where the three were killed.
Chandradeo's wife, Indrawattie, stated that the deceased and her 11-year-old son, Alvin, all left on Thursday afternoon to go fishing at Kokerite Savannah, Mibicuri Creek.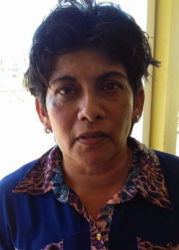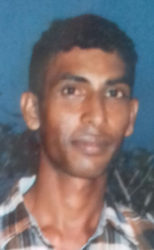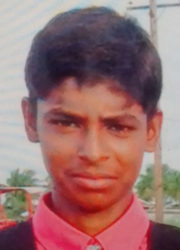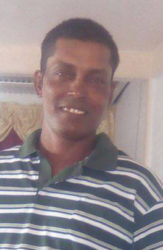 The woman recounted that her husband said they would return early yesterday morning, however, only her younger son returned.  She said he told her that on their journey to the backlands, his father had asked him to wait by a camp, where the security guard who watches the koker was, while he and the others went further ahead.
According to the woman, her son said that he waited up the entire night for the return of his father and brother but when they did not make an appearance, the guard encouraged him to walk out and return home.
According to Alvin, on Thursday night, around 10pm, while he awaited the return of his relatives, he heard two gunshots, followed by another gunshots a short while after.
His mother related that around 9am, she received a phone call from a family friend, who told her that there was a shooting at the backdam, prompting her to make inquiries. "Me call one boy and he tell me police a go back dam now, me ask am if a them, he say he na know," she said.
She explained that the next phone call confirmed her worst fears—that it was indeed her husband, oldest child and her brother, who were found dead.
When Stabroek News spoke with the mother of Naresh Rooplall, Shoba Devi, at the Mibicuri Hospital, she could not stop her tears from flowing as she had been plunged into mourning not only over the loss of her son, but her grandson and son-in-law, as well.
The woman stated that her 33-year-old son, who is a security guard at the Skeldon Estate, took the opportunity to go fishing with his brother-in-law and nephews as he was on leave. "He called me and said he going in Black Bush, that he hear lil hassa deh and he gon' come out next day," Devi stated.
Rooplall was a father of one and his wife is currently five months pregnant.
At Mibicuri, Black Bush Polder yesterday, residents had gathered at each junction sharing their disbelief and confusion at why anyone would wish to kill the three.
They called Pawan, a father of four, "the church boy," as he was a regular at his church. Ria, the sister of Jaikarran, who was called 'Kevin,' described him as a loving brother. She stated that she will miss her brother's laughter and him making jokes with her.
Naresh Rooplall's mother said he was a quiet and easy going person. "From work to home to church, he na go noway more," the weeping woman recalled.
Commander Amsterdam is expected to meet with the families of the deceased today.
Around the Web