A severed leg and arm suspected to be that of missing miner, Shawn Clarke have been discovered, and the police have detained two persons for questioning into his disappearance.
Crime Chief Wendell Blanhum yesterday informed Stabroek News that during the investigations, body parts and other items believed to be Clarke's were found.
On Thursday a severed arm was found, followed by a leg and then other belongings on Friday. The belongings, Blanhum said, were positively identified by Clarke's relatives.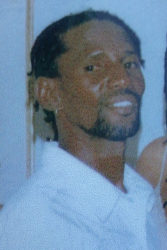 Up to last yesterday afternoon, the two men remained in custody. And as the search continued there were reports that another leg was found, but efforts to confirm this proved futile.
Clarke, 47, a miner of Lot 'C' Norton Street, Lodge, went missing on July 10 in the Mahdia area.
His wife, Rachelle Clarke, had told this newspaper that she last heard from him around 7 am that day when he had called to enquire about a package that he had requested be sent to him in the interior. During his call, the woman recalled Clarke indicating his plans to uplift the package later that day at Mahdia before travelling to an area called 'North America' to work.
However, as time went by she was contacted by a bus driver who related to her that her husband never turned up to pick up the package.
She recalled receiving a call later that evening from her husband, who told her that he was still working and would be late to uplift the package since he had to travel by foot. Several calls were made to him afterwards, all of which went unanswered.
Persons related to his friends who were searching for him that he was seen passing through a backdam in Mini Hall with a person identified as Marlon. A missing person's report was subsequently lodged at the Mahdia Police Station and his wife received a call on Sunday about the sighting of a body by a crew that was leaving the area.
But before the police got to the area, the body had been moved and semi-charred articles suspected to be Clarke's were left behind.
His wife said 'Marlon' was subsequently arrested and he told investigators that he had left the missing man at an airstrip, where he was making a phone call. He reportedly said that on his return to the airstrip, he did not see Clarke.
The woman has since suspected that her husband may have been a victim of a fatal robbery, since he was in the habit of having cash on him to send for her.
Around the Web