Three Vergenoegen, East Bank Essequibo seniors were last week honoured by members of Building Bridges Foundation.
The non-governmental organisation presented food hampers to the elderly women, Sister Enmoore, 94; Lilouttie, 88; and Ms Gould, 97, at a simple event.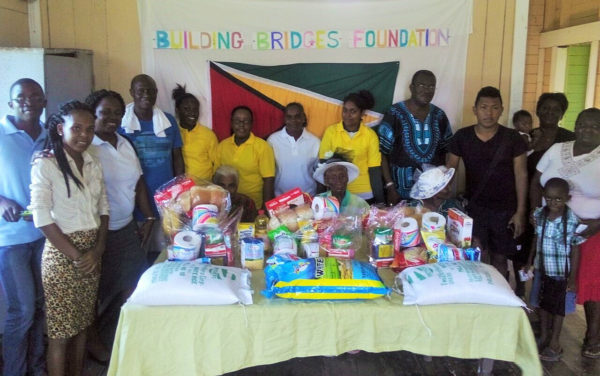 Director of Building Bridges Foundation Andria Wilson expressed gratitude to all those who donated towards the seniors. She encouraged the audience to "take good care of our seniors," since they have laid the foundation that they can now build upon.
Wilson also implored young people to take advantages of the benefits that the organisation has to offer, including youth leadership training and other 'youth empowerment' training. She also mentioned a camp that is to be held through the Ministry of Education, which would run from August 2 to August 5.
The seniors sang songs and shared information about their early days of working hard on sugar plantations. When asked what has kept them going, they all responded "prayers" and "God." They were all grateful for the donations.
In his remarks, Orville Stewart, a social worker and councillor from the Greenwich Park/Vergenoegen Neighbourhood Democratic Council (NDC), also encouraged the gathering to "pay attention to our seniors."
Around the Web