The suspect who has been arrested in connection with the murder of Gafoor's manager Terry Lackhan has since admitted to the crime and the police are hunting for his accomplice.
Crime Chief Wendell Blanhum told Stabroek News yesterday that suspect was arrested shortly after Lackhan's body was discovered dead at his Herstelling, East Bank Demerara (EBD) home on Thursday evening.
Lackhan, 55, of Lot 39 Herstelling, EBD was found dead in his house with a rope around his neck between 9 pm and 10 pm by a neighbour.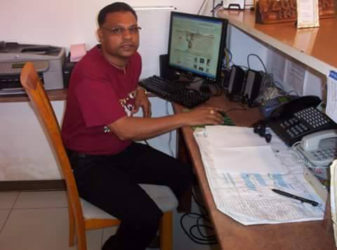 This newspaper had learnt that the neighbour who made the discovery heard a commotion in the upper flat but dismissed it since it was customary to hear noise whenever Lackhan drank alcohol.
However, she became suspicious when she later saw an individual running out of the yard.
She ventured upstairs to check on Lackhan, since calls made to him went unanswered and found his body in a room with a rope around his neck. The police were summoned.
The dead man's son, Rayad, had related that he was told that when the neighbour ventured upstairs, the house was in darkness and the smell of gas filled the air.
A reliable source informed this newspaper that both of the suspects are employed as labourers at Gafoor's Industrial Complex at Beterverwagting.
Stabroek News understands during questioning, the prime suspect said he first visited Lackhan's house last Sunday and was reportedly invited to return on Thursday evening, which he did taking along an accomplice.
The suspect told the police that after they beat Lackhan to death, they tried to stage a suicide by tying a rope around his neck and attaching the other end to a clothes stand in his bedroom.
They then left the house with a computer and some clothing, but were still in the area when the police arrived.
They were approached by the police, and one of them was arrested, while the other dropped the bag containing the computer and clothing and fled.
Up to late yesterday afternoon he had not been apprehended.
A post-mortem examination is expected to be conducted on the remains of Lackhan tomorrow.
Around the Web