An electrician died just after midnight yesterday after he was thrown out of the car he was in after the driver lost control and crashed into a fence at Diamond, East Bank Demerara.
Dead is Wavel Sabsook also known as 'Javid' and 'Bashment,' 32, of Samatta Point, Golden Grove, East Bank Demerara. Sabsook was reportedly in the passenger seat of the car and was returning home sometime around midnight when the incident occurred. It was reported to Stabroek News that Sabsook's friend Shameer Mohamed was driving the vehicle at a fast rate when it was clipped by another vehicle. Mohamed lost control and the car slammed into the Distribution Services Limited (DSL) fence. The car burst into flames minutes after.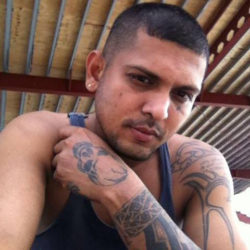 Sabsook was thrown out of the vehicle and died on the spot. Mohamed was able to escape with only minor injuries. Stabroek News was told that Sabsook would not usually wear his seatbelt and had not been wearing it during the accident. This newspaper was also told that there are cameras nearby that might have recorded the accident.
Sabsook's mother, Bibi, told Stabroek News that her son had left early Saturday morning to go to work. He told her that he was going to return early. "He packed a few things in his haversack that he would normally go do his electrical work and he asked me if I was going out anywhere and I asked him why he was asking and he said because he was going to come back early," the teary woman said.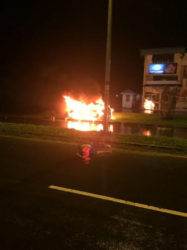 She related that just before he went out the yard, Sabsook told his four-year-old daughter goodbye and turned back and told her "let me tell you something, when you see I dead don't hurry, hurry and bury me, wait and take your time."
Bibi recounted that at around 9pm, she started to worry a bit. "I told myself that he must've seen somebody playing music on their set and stop by before coming home and that's why he was late," she said. The woman explained that her son got his nickname 'Bashment' because he was passionate about music and had built a big music set.
"About five past three [yesterday morning], I get up and I went in his room to check if he had come in and he wasn't there and then I heard a vehicle pull out and I saw lights and I thought it was him," Bibi said. She recalled that instead of being greeted by her son, she was greeted by several other persons who requested that she come out of the house.
"Well it was just me and the little girl home so I didn't want to go out but is when they say that 'Bashment' went into an accident I rush out the house and I seh he dead," she said. Even though the persons had not confirmed that her son had died, Bibi said she felt that he had died.
She quickly rounded up some neighbours and rushed to the scene of the accident where her worst fears were confirmed and she saw the lifeless body of her son on the ground.
Bibi said she has not heard from Mohamed or the police since the accident. The other car that allegedly hit the vehicle has not been found. Police investigations are ongoing.
Around the Web