Michael Thorne and Jamal McLeod, the drivers who were charged with the death of a minibus passenger after the Independence Day crash, were on Friday charged with causing a second death.
Thorne and McLeod were charged in a Georgetown court before Magistrate Judy Latchman with causing the death, by dangerous driving, of Joycelyn 'Tessa' Elcock on May 26, on Bagotstown Public road.
The charge stated that McLeod drove minibus BPP 6158 and Thorne drove minibus BPP 1670 in a manner that was dangerous to the public, thereby causing the death of Elcock. Both Thorne and McLeod were each granted their freedom on $100,000 bail and the matter was adjourned to August 15.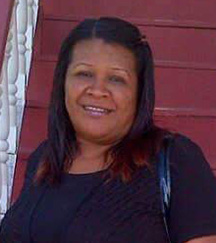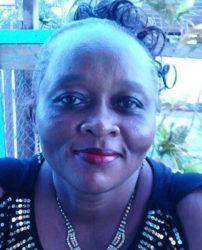 Elcock, 54, a police inspector of Uitvlugt, West Coast Demerara, who was attached to the Leonora Police Station was laid to rest two weeks ago with full military honours. The post-mortem examination results showed that she died from a fractured skull.
The now deceased woman was among several other persons who were taken to the Diamond Diagnostic Centre and then transferred to the Georgetown Public Hospital (GPHC), where she was treated for injuries she had sustained to her hip and later discharged.
Her mother, Judith Elcock, with whom she resided had told Stabroek News that her daughter was given a date to return to the GPHC for a "check-up."
According to her mother, Elcock did not complain of feeling unwell when she left home and she was surprised to hear she had died. She felt her daughter must have sustained internal injuries or bleeding to her head.
She recalled that just after the accident, Elcock's daughter, Camille had asked the doctor to perform a complete test, including a head scan on her mother to ensure she was okay before leaving the hospital.
The doctor had responded, however, that "she's talking so she don't need that." She had spent a week at Camille's house before returning home.
The defendants were charged on May 27 with causing the death of Roxanne Mitchell, 44, who was travelling in a Route 32 bus to return to her Farm, East Bank Essequibo home, after witnessing the flag-raising ceremony in Georgetown that was staged to mark Guyana's 50th independence anniversary.
The prosecution had told the court that McLeod was driving his minibus, in which Mitchell was a passenger, along the eastern carriageway of the East Bank Public Road and was going south towards the Demerara Harbour Bridge while Thorne was travelling from the opposite direction.
The court was told that neither observed the stoplight that was flashing amber, resulting in the collision.
Each was previously granted his pre-trial release on $250,000 bail.
Around the Web