Current statistics point to a massive decline in the number of work permits/extensions of stay granted to foreign nationals being recorded this year and Minister of Citizenship Winston Felix says the job market must be protected for Guyanese.
"We do not just issue visas on demand. Certain checks and verifications have been introduced into the system to ensure that we protect the Guyanese worker and I intend to foster greater collaboration with the Ministry of Social Protection, because we can't do it on our own," Felix told members of the Parliamentary Sectoral Committee on Foreign Relations, before which he appeared on Wednesday.
According to documents provided by Felix, from January 1 to June 30, the Department of Citizenship granted 194 work permits/extension of stay to foreign nationals. In 2015, a total of 1,525 were granted and in 2014, 1,117 were granted.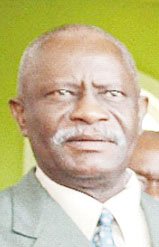 A breakdown for this year shows that 98 of those granted work permits were Chinese nationals while 22 were Indian nationals. Work permits were also granted to small groups of Canadians, Romanians, Cubans, and Indonesians, among others.
According to the information provided, 28 different nationalities were granted permits to work here. Brazilians, Peruvians, Indians, Chinese, Indonesians, Malaysians and Cubans were granted permits in large numbers in the years 2015 and 2014.
"We recognise the importance of business to this economy. At the same time, we also recognise that protecting jobs for Guyanese should not be taken for granted and as such in the issuance of work permits we ought to be vigilant and ensure that once the labour is not here then there is no problem with them coming in," Felix told the committee.
He said that that he had the experience last year of having a request from Aurora Gold Mine for over 100 Peruvians. A total of 25 Peruvian nationals were granted extensions of stay/work permits last year and 111 in 2014.
"My first reaction was: Where they going?" he said. Felix added that when he visited the site a few weeks ago, he understood exactly why such a request had been made. "We could not have found the labour required to perform the functions which they perform," he said.
He stated that when the Department receives a request for a dozen persons or 16 persons in mining or fishing, the first thing that is asked is what is the nature of the job and whether there are Guyanese who possess the particular skill.
"So, I would write to the minister concerned to provide me with advice as to whether it is necessary to bring this skill as against if it is available in Guyana and that is why there is a need for us now to forge a collaboration with the Ministry of Social Protection because I feel that Guyanese wuk must be protected for Guyanese," he said.
He added that where the skills are not readily available, foreign labour would be permitted.
Later, committee member and Minister of Business Dominic Gaskin asked what is the visa required for a foreigner being brought in by a business to service a piece of machinery.
Felix, in response, said that in that case a visitor's visa would be issued. He said that persons on business visas ought not to be seen as an employee and so payment of a wage or salary "would be unacceptable" and therefore a visitor's visa would be issued.
"We have it regularly," he said, while citing MACORP is one company that engages in this type of arrangement with the Department of Citizenship.
Minster of Social Protection Volda Lawrence, who is also a member of the committee, asked how easy it was to have an extension of stay done. Felix, in response, said that this is "simple" and he later called Carol Primo-Lewis, Head of the Immigration Support Services of the Department of Citizenship to provide further explanation.
Primo-Lewis said that the applicant has to visit the office in Waterloo Street, after which their passport will be checked. Thereafter they will be provided with an extension form, after which the application is processed. She said that it is not a difficult task but they are aware that there are a lot of persons out there who have overstayed their time and are scared to visit the office for extensions.
Following up, Lawrence asked how the ministry is dealing with the language barrier. Felix said that he is aware that interpretation of French, Spanish and Portuguese is available at the Foreign Affairs Ministry in adequate numbers and once a request is made, assistance would be provided. "The Ministry of Foreign Affairs is my official source to get interpretation of the language," he said, while adding that the most difficult language is Chinese. Minister Carl Greenidge, who also appeared before the committee, later indicated that Chinese interpreters are present at the Ministry.
Lawrence later asked what public relations programmes the department is planning to put in place to ensure that persons who have overstayed their time know what they have to do to get an extension of stay.  Felix said that one area recently discussed is whether the names of these persons can be published.
"We are going through this process first and we will embark on a programme where we will indicate… what the system in place is and so that those who are out there…. [can know] this is the process and if you use it, we will be well served," he said.
He noted though that there is a category of persons who might be suffering from ignorance, there are those who use Guyana as a transit point.  "They would come in and would not even arrive at the place… and eventually if we are lucky we might find them at Lethem on the bridge or attempting to cross through some other crossing," he said.
Around the Web