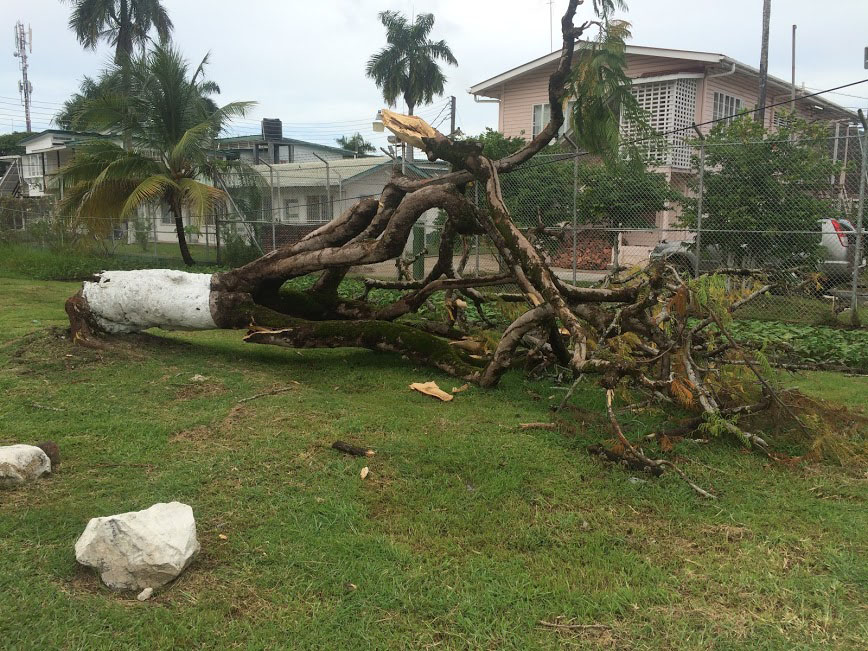 Several sections of the city suffered from flooding as a result of persistent rainfall during Monday night and yesterday morning.
In Festival City, persons were seen holding their shoes in their hands and walking through flooded streets to get to Aubrey Barker Road.  E R Burrowes, Humming Bird and Williamstaad streets as well as Blue Mountain Road had an estimated 3-4 inches of water.
A resident, Annabelle Williams, said the situation has become overbearing. She explained that many promises were made by the City Council to address the drainage issue but to date nothing has been done.  "What we need here is good drainage, the yards are high but the drains are clogged up and need to be cleaned for the water to be drained," noted Williams.
Shelly Thomas, another resident, expressed frustration at being surrounded by water. She said the water would linger and if the rain continued, her situation would get worse as water would begin to seep into her home.
Other residents called on the relevant authorities to dig and de-silt clogged up drains to address the situation. They said the water may take approximately three days to drain off.
A similar situation was seen at Bel Air Park with the drains overflowing onto the road. There was also flooding in Subryanville and along Quamina Street.
Meanwhile in Campbellville, some residents had to use makeshift bridges to exit and enter their premises. Sasfiel (only name given), told this publication that she had to carry out construction in her yard to prevent flooding.
However, the woman explained that even though she took precautionary measures she is still suffering. When Stabroek News visited, carpenters were carrying out corrective work. The woman had to remove her kitchen cupboards to allow them to break the flooring to remove the water that was lodged underground.
According to Sasfiel, the situation occurs because an alley located between Craig and John streets is filled with heavy vegetation. If the alley is cleaned, she said, the water would be able to drain off and the situation would be resolved.
Peter (only name given) said the water from his yard started to recede half an hour after the rain stopped. He stressed the need for continuous cleanup programmes as when they are carried out there was little to no flooding.
The Mayor and City Council (M&CC) in a statement yesterday said that blockages and illegal occupation of public spaces contributed to mild flooding in the city.
The release stated that "drains [were] once again blocked with some amount of garbage and overgrowth, but construction materials such as sand and builders' waste have gotten into outflows or placed on public spaces," which resulted in the accumulated water receding slowly.
The M&CC said gangs of council workers were dispatched around the city to clear drains and gutters to ensure the easy flow and drain off of water.
The M&CC appealed to citizens who owe rates pay up. The funds, the statement said will go a long way in ensuring the duties and functions of the body are met. "We eagerly await persons coming to settle their accounts," the release stated.
The council further appealed to persons to desist from blocking drains in the city.
"Citizens are also asked to keep their surroundings clean during heavy rainfall. This would include ensuring their drains are clean, grass is kept low and empty containers and other water catching instruments have been removed," the M&CC said.
Stabroek News was informed by the Hydromet office that between 8 am and 2 pm yesterday, Georgetown recorded 35.2 millimetres of rainfall.
The waterlogged conditions also contributed to two tree being uprooted, one in front of the Ministry of Presidency on Shiv Chanderpaul Drive and the other in the Main Street avenue, close to Middle Street.
Around the Web