Repairs to a key Konawaruk, Region Eight bridge, parts of which had been swept away by bad weather, are expected to be completed by next Mon-day, the Natural Resources Ministry said yesterday.
In a statement issued yesterday, the ministry said it has been engaging the Ministry of Public Infrastructure with a view to ensuring the early restoration of the bridge, which is an important cog to mining operations in the region.
"Restoration work is being undertaken by the company MMC Inc. and today the company provided assurances that work will be completed within a timeframe that will allow for normal use of the bridge by vehicles as of Monday August 22, 2016," it said.
Earlier in the day, Minister within the Minis-try of Natural Resources Simona Broomes visited mining communities in the area.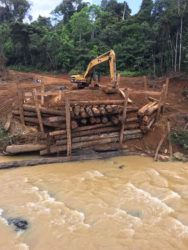 The ministry noted that MMC Inc. has assured the Minister that the bridge will now be reinforced to ensure that it can withstand the ravages of inclement weather in the future.
Minister Broomes was reported as saying that those miners with whom she spoke voiced relief at the news of the imminent restoration of the bridge and indicated their satisfaction over the on-the-ground attention that she continues to pay to the sector.
It added that the minister alluded to weather-related difficulties affecting smaller bridges in other parts of the Konawaruk, including the Tiger Creek area, which are having a negative effect on mining operations throughout the region.
As a result, the statement said, the Ministry of Natural Resources is engaging the Ministry of Public Infrastructure on the matter of the early repairs/restoration of the affected bridges.
Minister Broomes also said her visit yesterday, like previous others, served as a timely reminder of the importance of continually strengthening the infrastructure in the mining sector.
Around the Web