An investigation into the accident that claimed the life of John Fernandes Limited stevedore Orin Morris has found that the accident could have been avoided had there been appropriate supervision.
The investigation also revealed that no assistance was offered by a barge crew that was present at the time of the accident.
Morris, 48, had been performing duties on a pontoon around 2 am on July 20 at the John Fernandes Wharf, when he was hit by a log which was being moved by a crane and fell into the Demerara River. His body was retrieved from the river on July 21st.
An official report containing the findings of the investigation, which was conducted by Ministry of Social Protection's Department of Labour Occupational Safety and Health (OSH) Officer Neza King, was handed over by Chief Labour Officer Charles Ogle yesterday to Human Resources Manager of John Fernandes Limited Donna Roberts Benjamin.
"Among the breaches include a lack of appropriate supervision which led to the death of Morris. The supervisor was not on the site at the time of the fatal accident," the report said.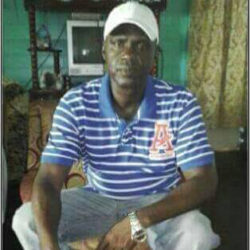 The investigation also found violations of the guidelines for "loading and clearing of lift and swing paths, and these more than anything else, led to Morris' death," the report said.
Further breaches include an absence of emergency and rescue operation plan and programme and there were no lifesaving jackets that could have been used to rescue Morris. Additionally, it was found that the Bai Shan Lin crew on the barge never offered any assistance to help rescue the stevedore at the time of the accident.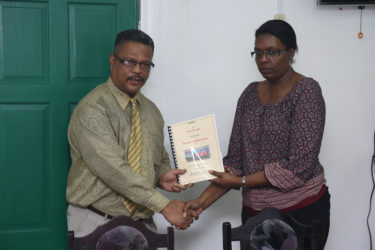 The investigation also found that the company had an undated and archaic Employee Safety Manual and an absence of a coherent policy implementation programme.
King said at the handing over yesterday that there was full cooperation from John Fernandes Ltd during the period of investigation.
According to the ministry, it has been intensifying efforts to enhance Occupational Safety and Health throughout Guyana. These efforts, the ministry said, can be substantiated through investigation into all reported industrial accidents. In addition, it was stated that these intensified efforts are also verifiable through expansion of training and education programmes.
Additionally, the ministry said that based on empirical evidence, it has concluded that safety and health deficiencies that are evident in some companies are attributable to an unwillingness of management to fulfil legal obligations. On the other hand, it was stated that there are some companies which hold the occupational safety and health of their staff as a core value.
It was only last week that Stabroek News had reported that the Labour Department was looking to work with select employers to improve workplace conditions and reduce the number of both fatal and non-fatal accidents. For the year, according to statistics from the Department of Labour, there has been a total of 245 accidents reported to the department.
Around the Web