Land titling and amendments to the Amerindian Act of 2006 are two of the topics that will be up for discussion at this year's National Toshaos Conference, Chairman of the National Toshaos' Council Joel Fredericks said yesterday.
An annual event, this year's conference will be held under the theme 'Guyana's First Peoples, Preserving our Culture and Land for Life' and is set to commence on Monday at the Arthur Chung Convention Centre, at Liliendaal.
Running for five days, the conference will see 216 indigenous leaders from various communities across the country coming together to discuss issues affecting the local indigenous population; leaders would also have the opportunity to recommend solutions.
Speaking at a press conference held in the Minis-try of Indigenous Peoples' Affairs Boardroom yesterday, Fredericks pointed out that because indigenous people live in communities in Guyana's vast hinterland they face different issues and challenges.
The national conference allows leaders from the various communities an opportunity to meet and discuss issues at hand. Fredericks highlighted land titling and demarcation as well as a revision of the Amerindian Act of 2006 as being two of areas of focus for the conference.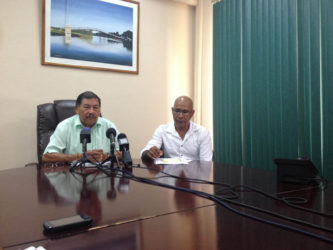 "We know that the indigenous people have land issues and those issues take some time to process but we want to share our thoughts and ideas on how we can address it. Land is very important for the indigenous peoples' way of life. They are connected to their land; as the Honourable Minister would say, land is their life," Fredericks said.
He also spoke of plans to review and discuss the Amerindian Act of 2006, saying that the NTC has recognised that there is a need for amendments to some aspects of the Act.
"It's not an easy task, we need to meet with the indigenous population and have consultations with them on this issue," the Chairman added.
He also registered his hope of hearing from members of the government.
"What I would like to add is that at this conference, we will meet and share with the ministers on different topics and we would like to hear what their plans for indigenous development are, so we can know where we fit in the contribution to the development of this country," Fredericks said.
He went on to say, "We have a different culture but we are moving forward, we are advancing and we know where we want to go but we want to work with this government to achieve that. We want to work together in achieving goals that so we can leave a legacy for our people."
Other areas to be discussed include education, large-scale mining in indigenous communities and social issues.
Similar sentiments were shared by Minister of Indigenous Peoples' Affairs Sydney Allicock as he implored the NTC to take its "rightful position" as a body that works along with the different communities for developmental purposes.
He went on to ask that NTC not view the ministry's as a dictatorial body but rather as one that is supportive of the ideas presented for development.
Meanwhile, Allicock agreed that there is indeed a need for a review of the Amerindian Act of 2006, saying that while Guyana may be the only country in the region that has such legislation for indigenous people in place, there is a need for it to be updated and strengthened for the benefit of the people it aims to protect.
Thus, the minister indicated his interest in hearing the recommendations that would be presented by the Toshaos at the conference on this specific topic.
He agreed that the land demarcation and titling process is lengthy and costly as well, but pointed out that time had to be spent revisiting areas for confirmation purposes as requested by some villages.
Additionally, he asked that it be taken into consideration the location of some of the areas that have to be visited since some areas are not easily accessible.
The minister called on the Opposition, one the Government's harshest critic to come forward and make "honest contributions" towards to the development of the country's first peoples.
"I know we have been bombarded with not being enough by the Opposition, but it helps us by guiding us to where the weak points are. …they are also Guyanese, they have been here before, they know what happens, and I call on them to give us some honest contributions for the sake of the survival of the indigenous people," Allicock said.
Around the Web