LBI estate workers, who have started chores at Enmore, are now calling to be severed if proper conditions are not met.
The workers, who continued their ongoing protest outside the Ministry of Agriculture (MoA) yesterday, told Stabroek News that it did not make sense for them to stay on the job and said GuySuCo should pay them and let them go.
They tried to get Minister Noel Holder to listen to their concerns and to get GuySuCo to have dialogue with them, but they say to no avail so far.
The workers attended a meeting two weeks ago and the manager told them they cannot demand more money or request specific assignments. "They said we have to take what we get and that is not fair," a worker noted.
Ramchand Thakur, a carpenter at the LBI estate, told this newspaper that GuySuCo's management was talking about "cutting cost" but they were actually "building cost." "It look like nobody in management is thinking first; they are doing and then thinking," he added.
According to him, GuySuCo has forced the workers to go over to Enmore but he pointed out that the workers from there are "idle" because there is not even enough work for them. He said too that it would also cost more to transport the LBI transfers to and from Enmore and they [workers] would lose time in the process, without benefitting from the disturbance allowance.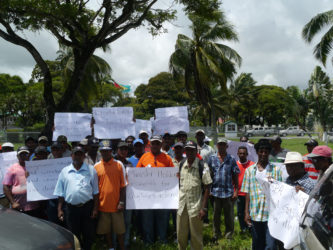 Thakur said he had invested in livestock and had more time to attend to them while at LBI because he was working eight hours. At Enmore, he said, his time, including travelling, amounts to 12 hours.
Another worker who was attached to the LBI estate since 1978 said he was comfortable there and did not want to change.
At Enmore, he said, the workers from there "would take work first and then if they have any left back then we would get."
Sookram Persaud, a cane harvester of Enmore Estate, said he was protesting the wage problem. "Last year there was a wage freeze, where we did not get any increase and this year it ain't look like we would not get any either," he added.
Persaud said their tasks include cutting 15 to 20 opening [cane] to fill the punts but the cane is very short, the distance is far and the canal is bad but GuySuCo is not paying extra. "They tell us that if the punt don't have five or six tonnes, we gat to go next day and full it, complete the same punt with 6.5 tonnes. We used to get an hour walk back [pay] but now we don't get that, dem cut out everything," he lamented.
They were disappointed that nobody was taking any action or even paying attention to them and promised to continue to protest at other locations.
A representative from the Guyana Agricultural & General Workers Union (GAWU) told Stabroek News that they were not going to give up their call to have dialogue with GuySuCo.
He said they tried to get President David Granger to intervene when they held at protest in front of the Ministry of the Presidency on Tuesday but they were unsuccessful.
According to him, a group of workers sent in a letter for the president to come out and talk to them but "they never heard anything back."
They then decided to take the protest in front of the MoA. "No talk, no work" and "We want wages," were among the chants by workers. They also shouted that a few heads of GuySuCo as well as Minister Holder "should go."
President of GAWU Komal Chand told this newspaper that "it shows that the workers are becoming restive because just the other day they picketed the President Office… workers are becoming more and more dissatisfied."
According to him, "Those who went over to work, like the tractor operators and the chain boys who work on the cane punts, found the condition to be very different from where they work at LBI and they are all joining the picketing line."
Chand said that "the matter may be discussed at GAWU's congress and these workers, no doubt, would ask the other workers of the other estates for solidarity" in the protest.
He reiterated that GuySuCo should invite the union to talk so that they can address the issues quickly "because that is the way to go but they are not talking to us, they are not dialoguing with us and this is strange."
He said too that the minister himself does not want to meet with them and lamented that they "don't want a dispute; we just want to meet with him officially."
Around the Web