Guyana Water Inc (GWI) and the Suriname Water Company (SWC) yesterday wrapped up a Water Partnership Programme, which GWI CEO Richard Van West-Charles said imparted invaluable experience that will be used to improve water quality and other aspects of the company.
The Water Partnership Programme was sponsored by the Inter-American Development Bank (IDB) and UN Habitat. Public Relations Officer of the GWI Leanna Bradshaw explained that since SWC and GWI share similarities on issues, such as customer relations, non-revenue water, water resources and both have IDB loans, they decided to launch the partnership programme to share experiences and ideas.
Van West-Charles lauded the programme and pointed out that the young engineers have been able to gain more knowledge and harness their skills in several areas through the venture.
Speaking at a press conference, Van West-Charles explained that the group from Suriname arrived on Monday and had a "full week of work" with "good exchange" between the two companies. He added that they were able to explore areas such as non-revenue water, water quality, the distribution systems and the design of the treatment plants. "As you would know we are about to embark on, as a result of a loan from the IDB, building three new plants at Uitvulgt, Diamond and Sheet Anchor," he said.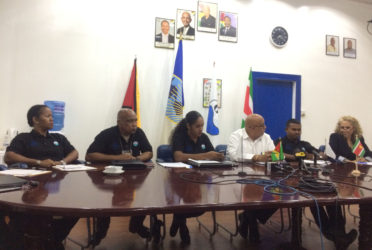 He pointed out that the SWC has done extremely well when it comes to metering and non-revenue water loss, as 100% of its customers in Nickerie are metered and its non-revenue water loss is about 20%. He explained that the company will benefit even further when an exchange visit is paid to Suriname in September.
Van West-Charles said one of the main issues that they looked at was the design of the treatment plants. "…Any design really should start with the water quality analysis and once you define the wide range of parameters I think the design would address in a specific manner the type of treatment plant," he said, while pointing out that one of the main reasons that they have been experiencing recurring problems at the plant in Linden is because of the design.
"We are taking water from two sources, from the ground and from surface, and it appears that it is one design in the two plants which is contributing to the difficulties we are experiencing," he said.
Referencing the issue of the faulty casings in 18 wells around the country, Van West-Charles pointed out that the venture has led to a change in casing from carbon steel to PVC, which is used by the SWC. He said GWI is also looking to reduce the cost of well drilling.
"We also have an approach of having one well in every area whereas they have a series of wellfields which gives a level of redundancy and security in terms of water supply," he added, while stating that they hope to learn from them to better the distribution system of GWI.
SWC representative Gerald Feria said, "As we came in on Monday we didn't know what to expect. We were trying to set up the collaboration for quite a while and it never came to the form as it is now… we only had visits from individual so now it is going [to be] on a structural basis and I am quite pleased with the collaboration." He said the experience from the collaboration is invaluable as the GWI has developed new techniques to provide small communities in the Hinterland areas with water, which SWC would be taking note of.
IDB Country Represen-tative Sophie Makonnen also made brief remarks and lauded the programme. She explained that while the IDB has been supporting the company for over 12 years, it has provided more technical assistance since 2008.
Around the Web