With a small but steady demand for its products in Orealla, the Orealla Farmers Association is now attempting to break ground into new markets both locally and internationally.
The nine-year-old association has mounted a booth at this year's Berbice Exposition and Trade Fair, currently being held at the Albion Sports Complex, with the aim of attracting new and potential customers. According to the association's chairperson Janice Herman, they are currently supplying cassava cassareep, pine chunks, crab oil and cassava bread to individual families and small businesses in Orealla, and feel the time is right to expand out of the community.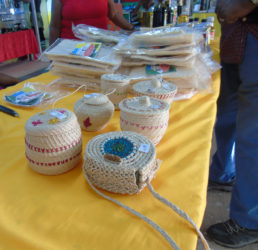 "We are in the association for nine years now and we are trying to improve our products and extend our reach to outside of Orealla village," Herman said. However, the association is faced with several challenges. "Right now we don't have equipment and 24-hour electricity where we can store our products daily and keep them," she stated.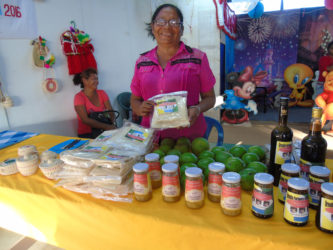 The farmers supply their produce to the factory, where it is processed for distribution. At present, the association sources electricity for the factory locally through generators. "We have a factory but we need electricity 24 hours and because we have to supply the generator with fuel, the cost of production is significantly higher than it needs to be," she said.
Additionally, according to Herman, they need help marketing their products and designing a sales pitch that would captivate their target group.  Hence, the decision to attend the expo, as they feel it will provide not only the opportunity to expand their customer base, but also allow them to interact with potential customers to determine their needs and what the association can add to its list of products.
The association has 50 registered farmers at present.
Around the Web