It has been almost two years since the body of Teyana Raghbeer was found floating in a trench aback of Adelphi Village, East Canje, and her mother is unhappy with pace of the police investigations, especially the release of suspects despite seemingly strong evidence.
Raghbeer had disappeared from her Lot 32 Reliance Abandon residence on the evening of December 26, 2014. She had spent Boxing Day with her father, stepmother and brother at a gymkhana held in East Canje.
This newspaper had reported that when they returned home in the evening, they continued celebrating the festive season on the bridge to leading their house before retiring indoors.
Raghbeer reportedly took dinner upstairs for her parents, indicated that she was going downstairs to get drinks for them and then disappeared.
Her absence was noticed sometime after 23:00 hrs, and a search was immediately launched. Though by her family's admission, Raghbeer had a tendency for "going a bit overboard" in her enjoyment of life and had to be reprimanded on several occasions for engaging in inappropriate behaviour for her age, they said she would normally notify a family member if she was leaving the house to go somewhere. So it was strange that she left without telling them.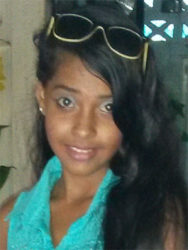 After realizing that Raghbeer was nowhere in the vicinity of the house, her father, Jaiprakash Raghbeer called 'Jaio' and stepmother began searching for her and eventually found her the following day, dead. The police fished her body out of the trench and her father was able to positively identify her as his daughter from her clothing and a scar on her forehead.
An autopsy revealed that she died as a result of suffocation and drowning
The father, along with three other persons, including a young man with whom Raghbeer had a romantic relationship, was held for 72 hours and then released.
Speaking to this newspaper yesterday, the dead teenager's mother, Amika Sherryann Hunte said since her daughter was murdered she doesn't know what happiness means and has been constantly falling ill.
What hurts most, she said, is that she has never heard anything else about the police investigation into the matter. "Nobody ever come a day and tell me what's going on and it really hurts me because I don't know what my daughter do to get kill so," she said.
Hunte visited the Reliance police station just last month to enquire about the investigation and was told by the officers on duty that the case file was returned from the Director of Public Prosecutions (DPP) Chambers but they were not aware of the status at present.
After not receiving much satisfaction there, she ventured to the New Amsterdam police station where she was told "things like these take time."
She said in June she met the guy who had shared a relationship her daughter and who had been arrested, and he told her, "Aunty Amika me ain't murder yuh daughter but everybody get back they bail money."
Raghbeer, the elder of two children, her ten-year-old brother were adopted and raised by their paternal grandparents, from the time they were toddlers.
After her biological parents divorced and remarried different people, she and her brother lived with her father, his parents (her adoptive parents) and his new wife.
Hunte believes the police are not following the right leads and accused them of "looking in the wrong areas." She said based on information she received her daughter was beaten and thrown into the trench where she died.
She said too that prior to her death Raghbeer had threatened to kill herself because she wasn't comfortable where she was living.
"They use to treat she bad to an extent that she use to run away and come by my house and tell me mommy meh ain't want go back…," Hunte said.
She said the day her daughter's body was found she was the last person to be informed. "People tell me how Teyana face did cut up is either a zinc or scissors was used…," Hunte said. The grieving mother said she is determined to get justice for her daughter.
Around the Web