The Regional Democratic Council of Region Five is looking to have a special needs school set up in the region, so as to cater for the numerous persons living with disabilities.
A call was made for such an institution by APNU/AFC Councillor Abel Seetaram at the council's statutory meeting on Thursday last and APNU/AFC councillor Carol Joseph suggested that it should be a special project and that the council should approach funding agencies to assist with financing.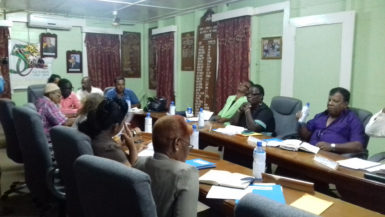 However, another councillor highlighted that a plot of land at Lovely Lass Village, West Coast Berbice had been set aside sometime back to facilitate a special needs school.
Regional Chairman Vickchand Ramphal suggested that at a later date the council will go more in depth on the project and work together towards bringing the school into existence.
Meanwhile, the council also recommended during the meeting that the Neighbourhood Democratic Councils in the region, spend their subventions wisely and that they should seek assistance from the Regional Administration when carrying out their work.
Thursday's meeting was the first uninterrupted one in months. The disruptions of statutory meetings, led by Joseph, had begun in January after Ramphal was absent from a handing-over ceremony where President David Granger was in attendance. The APNU/AFC councillors dubbed this as disrespectful to the President and refused to participate in any meeting until Ramphal apologized.
However, on August 1, the President attended an Emancipation Day event in the region and called on councillors on both sides to let "bygones be bygones" and work together for the betterment of the region. This led to Ramphal and Joseph embracing each other, signalling an end to their public feud.
Around the Web