Four municipalities and two Neighbourhood Democratic Councils (NDCs) recently signed Memoranda of Understanding (MoU) with the Caribbean Local Economic Development Project (CARILED), which will allow for CARILED to engage in a more focused manner over the coming months to strengthen its collaboration with the local authorities.
Signatories to the MoU were the Mayors of Linden, New Amsterdam, Rose Hall and Corriverton, and representatives from the NDCs of Mocha Arcadia and Soesdyke, and the Project Director of CARILED, Marion Villenueva, according to a press release from the Ministry of Communities.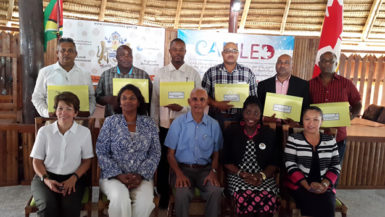 The signing coincided with the launch of a professional development workshop series for local government councillors at the Umana Yana, and was witnessed by Minister of Communities Ronald Bulkan, Charge d 'Affaires, High Commission of Canada Sharmini Poulin and Villenueva, a media bulletin from the High Commission stated.
"The Ministry of Communities is tasked with rebuilding the damaged system of local governance by building capacity, providing support and training," Minister Bulkan was quoted as saying in the High Commission's release, as he lauded the support and the work of the project to assist in the realization of the government's vision for local government autonomy. Ms. Poulin in her remarks underscored the importance of good governance, accountability and transparency. "Introduction to Governance and Leadership" was the training module delivered by CARILED last week, and included the topics of leadership and personnel, multi-stakeholder collaboration, financial administration and local economic development strategies and practices. The session was an expansion on a previous course conducted by CARILED for local government officials from both the Regional Democratic Councils and NDCs across Regions 2,3, 4, and 6, noted the High Commission's press release.
CARILED is a six-year local government project embarked on in 2012 and funded by the Government of Canada, which has MoUs with Belize, Dominica, Grenada, Guyana, Jamaica, St. Lucia and Trinidad & Tobago.
The aim of the project is to increase sustainable economic growth through micro, small and medium size enterprises, and the strengthening of local governments' capacities to    facilitate local economic development, the High Commission's bulletin added.
Around the Web