Prayer Palace Assembly of God Church is the latest victim in what has become a spate of thefts in East Canje Berbice, specifically in the Fort Ordnance Housing Scheme – Sheet Anchor area. Thieves on Friday last, broke and entered the church, located in Sheet Anchor Village, and stole two amplifiers valued at $150,000. The intruders broke in through the backdoor, presumably using a crowbar and sledge hammer.
They searched an office in the building and ransacked the cupboards found there.
The perpetrators then emptied a suitcase which was used to store curtains and tablecloths and packed it with electrical items and equipment found in the church. However, they then apparently aborted that plan and made off instead with two smaller amplifiers, leaving a bigger and heavier one behind. Musical instruments including a bass guitar, keyboard and drum set were untouched.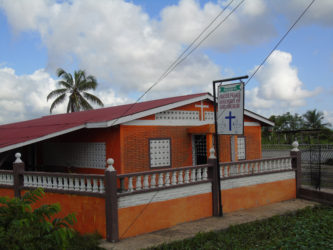 The theft was uncovered early Saturday morning, when the pastor of the church arrived.
"As usual, I came to the church around 7.30 am to turn off the lights and I discovered the back door broken… upon checking the building I discovered two amplifiers missing," related Pastor Lawrence Williams.
On further inspection, Williams noticed that the speaker boxes had been tampered with. "They were trying to dismantle the speakers from the speaker boxes but maybe time did not allow for them to do so or maybe [they had] difficulty in unscrewing the nuts; it was hard for them to carry off the speakers" he stated. One of the two stolen amplifiers, the pastor said, was purchased as recent as February this year. "We have suffered losses here with our amplifiers, which helped us with our music and our instruments but we are trusting God that we can get it back, that God will restore these things," he said.
This is the first time the church has been broken into and its governing body has already replaced the broken door and is looking into ways to beef-up security. An official report was made at Central Police Station in New Amsterdam.
Meanwhile, residents of the area have over the past month reported incidents of theft of items such as bicycles, motorcycles and tools, as well as poultry.
Around the Web