Five bandits armed with a gun, knives and cutlasses robbed an Edinburgh family early yesterday morning, and in the process one of the attackers shot dead his accomplice.
The family of Edinburgh, East Bank Berbice has been left traumatized after the bandits broke into their home which houses their grocery shop and beer garden, escaping with $100,000 in cash, a quantity of phone cards and jewellery. The police have confirmed that during the ordeal one bandit was shot dead by his associates. Commander of B Division, Ian Amsterdam informed Stabroek News that two suspects have been arrested so far.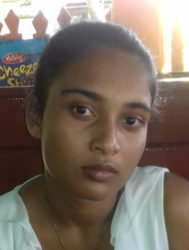 According to reports, it was around 1am yesterday morning when the bandits attacked Nandkumar Datt, 45, of Lot 3 Edinburgh Village, and his family. Kelly Datt, 21, one of the victims told this newspaper that she was fast asleep when her father raised an alarm about persons walking on their shed. Datt related that the men gained entry into the home by breaking one of the windows. "When daddy call for me and my sister I did not run because them did done break the window and jump through hitting my sister and she start hollering", she said.
She then recounted how she ran to the room with her sister but bumped into two of the perpetrators and attempted to block them so that her father could escape to seek help. "I was pushing them so that they would not catch my mom and dad", Datt said. She went on to describe how she pushed one of the bandits and ran downstairs to collect a cutlass. "I find the cutlass and I hit one of them but he fight me for it and collect it".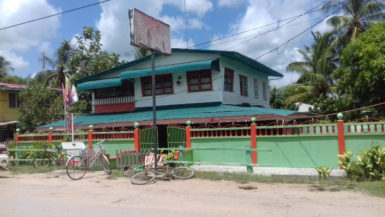 Nandkumar Datt by this time had made an escape through the grocery shop door and raised an alarm among the residents. "My dad gone to call for help so when he take away the cutlass me hold on this door and he start pulling me and hitting me with the cutlass… He lick me down and kick me from back", Kelly Datt said. According to Datt, two perpetrators then brought down her sister and mother from upstairs. She related that the men started to beat her and her sister demanding cash, and her mother offered up all the money they had while pleading with the bandits not to hit her daughters: "She give them the money and then them did going and chop out her hand for the gold bangle, but she take it out and give them".
The men then took the three women upstairs and ordered them to stay there as they proceeded downstairs into the shop once more. However, Datt said that while upstairs she heard a gunshot. "Me hear a gunshot and I thought was my dad", she said. She went on to say that she left her mother and younger sister upstairs and ran downstairs to spy on the perpetrators in the shop: "I heard them talking, saying to open the door and then I heard the gate shut and I hear some holla but then I run back upstairs."  However, neighbours told Stabroek News, that the bandits discharged more than one round. After four of the perpetrators made their escape on foot through the Edinburgh Housing Scheme, the family came downstairs and saw one of the men lying on their bridge in a pool of blood. "His face was full with blood and he was thinging for breath", Datt said.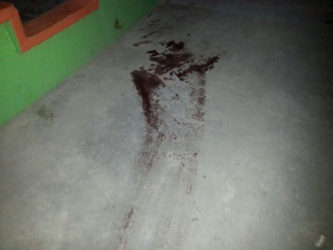 The family sang the praises of the division's lawmen. They said that ranks arrived a short time after being phoned, and one resident added, "Even the commander come too".
Meanwhile, according to the police the injured suspect was rushed to the New Amsterdam Public Hospital but was pronounced dead on arrival. The deceased has been identified as Odan Lallbeharry, called 'Stew,' 45, of New Forest, East Canje, Berbice. Investigations are ongoing.
Around the Web