After the fatal accident yesterday in Mahaicony, two persons are still critical in the ICU at the Georgetown Public Hospital.
One of the drivers recalled seeing the opposite vehicle "dancing" at a high speed towards him.
Stabroek News had reported yesterday that two cars, PRR 1766 and PSS 5092, were involved in an accident that resulted in the death of four-year-old Raveena Harris and the injury of four others.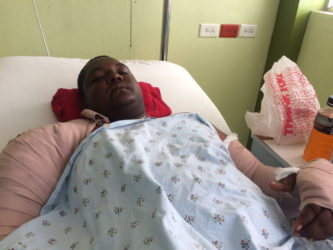 While it was reported that Samantha Dowding was driving PRR 1766, and Carlson Facette was driving PSS 5092, this newspaper was told yesterday that Facette was driving PRR 1766 and Dowding was in the passenger seat with three adults and two children in the back, including Harris and an eight-month-old baby.
"I was going to Berbice with four passengers and all I remember was seeing the vehicle coming towards me speed, speed. When I come around the corner it was dancing towards me and they lose control and it just flip and come straight into me," Facette, who sustained minor injuries and is still a patient at the Georgetown Public Hospital (GPH), recounted to Stabroek News yesterday.
He said that immediately after the two vehicles collided he lost consciousness and subsequently woke up at the Mahaicony Hospital.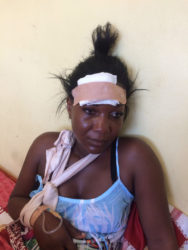 Dowding described the other car as "spinning" towards them just prior to the accident. "Actually I was sitting at the front seat with the driver and I was on my phone and all I hear is the driver said 'Oh shucks', and by the time I raise me head I see the other car spinning coming towards us and that is all I could remember," she related. She too said she lost consciousness and woke up when they were being rescued by public spirted citizens. Dowding is currently a patient in the female ward at the hospital.
Latoya Wayne is still in the ICU along with her 8-month-old baby.
A relative of Wayne explained that she had had surgery and the doctors were waiting for her to recover sufficiently to undertake another one. Currently she is listed as critical, and is breathing through a ventilator. The baby is also critical.
Around the Web