City vendors were a no show at the Mayor and City Council's (M&CC) pilot 'flea market' project which was scheduled to roll out yesterday.
The pilot flea market was set up by the city administration to allow persons selling back-to-school items to vend on Regent Street between Cummings and Alexander streets. It was announced that the flea market pilot would go into September until school reopens, and only operate on weekends.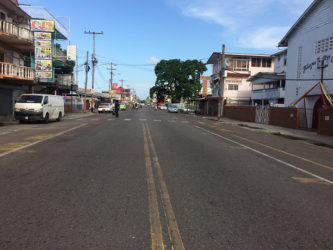 However, when Stabroek News visited the earmarked section there was no commercial activity taking place.
Upon enquiring, Stabroek News was told by one vendor who uses the area to ply her trade that the vendors did not turn up.  The vendor, who asked not to be named explained that persons from the municipality went yesterday morning and placed barricades on the road with the intention of cordoning off the area to allow vendors to ply their trade freely. She added that at around 12 noon, workers from the city council removed the barricades since the vendors did not put in an appearance.
Stabroek News had earlier reported that the pilot project is the M&CC's way of demonstrating that it is looking after the vendors' best interests. The initiative will allow vendors who are plying their trade at Parliament View Mall to vend out in the open.
However, yesterday when this newspaper paid a visit to Parliament View Mall, vendors stated that they are not the persons selling back-to-school items, and consequently they did not take up the offer.
Public Relations Officer of the M&CC Debra Lewis said that vendors from Parliament View Mall would be given first preference. She noted that the decision was made because many vendors complained about not making a profit in sales.
Around the Web