Patrick Goodluck, one of the two suspected bandits captured and severely beaten by a group of persons in North Ruimveldt last week, has been charged and remanded to prison, although his lawyer claims that he is a victim of a case of mistaken identity.
The courtroom of Magistrate Judy Latchman yesterday heard that on August 17, at Georgetown, Goodluck, 22, of Lot 72 North Sophia, attempted to rob Roger Lovell.
Goodluck, a sawmill operator, pleaded not guilty to the charge.
According to his lawyer, Paul Fung-A-Fat, Goodluck's predicament is that of mistaken identity. The lawyer said that on the day in question, his client went to visit a friend and was at the wrong place, at the wrong time.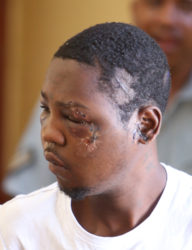 He said that Goodluck was walking down the street with another young man, who is not related to him by any way, when they were attacked by members of the public and Lovell.
Fung-A-Fat said that his client has head, eye and neck injuries and he also lost four teeth as a result of the beatings. The lawyer later asked for bail to be granted and requested that his client be sent back to the hospital to receive further treatment.
However, Police Prosecutor Kerry Bostwick objected to bail. He said that Lovell had observed the two men, who were armed with guns, enter his house and they attempted to rob him.
Lovell subsequently raised and alarm and public-spirited persons went to his rescue. Bostwick said that the men were caught and were subsequently handed over to the police. The prosecutor added that the other accused is still in a critical condition at the Georgetown Public Hospital but will be charged soon. The magistrate remanded Goodluck to prison and adjourned the matter until September 2 for statements.
Stabroek News was told that Lovell had returned home shortly before the incident, when he was attacked by the bandits, who entered his apartment and held him at gunpoint.
They demanded that he remain quiet and hand over a gold chain he was wearing but he refused and a scuffle ensued.
During this process, his uncle, who resides in the upper flat of the house intervened and together they managed to fight off the bandits. It was while they were fighting that the firearm fell out of the armed man's hand and residents, who by then were alerted, attacked the bandits.
Around the Web