A 76-year-old man was on Sunday night found dead in his ransacked home with his throat slashed and the police suspect that he was the victim of a robbery. His son and two other men have since been arrested.
The body of David Ramkissoon called 'Dillip' and 'Shortman' was discovered in a pool of blood in the bottom flat of his Lot 61 Better Hope, South, East Coast Demerara house where he lived with his son, Anand Ramkissoon, daughter-in-law, Nalini Ramkissson and their two sons.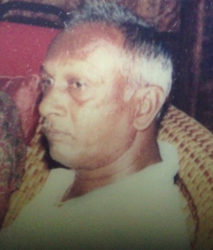 He was last seen alive around 1.30 pm on Sunday by residents of the community. It is suspected that the elderly man knew his attacker/s since neighbours heard no suspicious sounds.
An undisclosed amount of cash was missing from the house. David Ramkissoon had reportedly kept money in white envelopes and these were found crushed in the upper section of a refrigerator in the house.
Commander of 'C' Division Paul Williams yesterday informed this newspaper that Anand Ramkissoon and two of his friends were arrested for questioning.
According to reports reaching Stabroek News, the gruesome discovery was made by Anand around 11 pm on Sunday when he and his family returned from a trip to the creek. They sensed that something was amiss since the house was in complete darkness and the doors were open.
The dead man's daughter-in-law Nalini yesterday explained to this newspaper that the trip to the creek was a celebration for her eldest son who had gained 90% in his end-of-term examinations. She said before they left home on Sunday morning they asked her father-in-law to join them, but he demurred, saying, "Y'all go man, that is young people thing."
One of the friends in custody reportedly accompanied the family to the creek while the other did not.
Nalini said they left her father-in-law relaxing in the hammock with the house tightly secured. According to her, hours later, she tried calling the landline about two times, but the calls when unanswered. "I try calling he to make sure he hot up the food and eat but I didn't get he. The phone ring out… I didn't study because I say that he mussy gone and lime at the road end as usual," she said.
When they returned home, the house was completely dark, something which they found quite unusual. Nalini said her husband disembarked the bus, "to open to the house to go check on him when he see the whole place tumble up and he father laying down with he face in the chair and he on he knees."
There was a hole in the back fence, which the family suspects the bandit/s used to gain entry to the property.
An alarm was raised, alerting neighbours and the police were informed. They arrived and cordoned off the house as a crime scene and investigations were carried out before undertakers removed the man's body.
When Stabroek News visited yesterday morning, a large crowd had gathered at the house and persons from the community expressed shock at the entire incident.
Nalini denied reports that her father-in-law was murdered over a land dispute, since according to her the land already belonged to her husband. She said, "I don't know why they would want to accuse my husband of this. He would never do this. He himself frighten police so I know he wouldn't even think of that. Besides we and me father-in-law use to live good."
She said a quantity of money was kept in the house since they were saving for renovations which were expected to commence soon.
David Ramkissoon was described as a very friendly and quiet individual who also leaves to mourn four other children along with relatives and friends.
Around the Web