The driver accused of causing the accident that claimed the life of Wavel Sabsook, also known as 'Bashment,' was yesterday placed on over $1,000,000 bail after denying charges that he caused the man's death and drove while under the influence of alcohol.
Appearing in a city court, Shameer Mohamed, 36, of 99 Diamond, East Bank Demerara, heard that on July 24, on the Diamond Public Road, East Bank Demerara, he drove PVV 2007 in a manner dangerous to the public, thereby causing the death of Sabsook. Mohamed was also charged with driving under the influence, whereby he reportedly had .103 microgrammes of alcohol in his system at the time of the accident.
He pleaded not guilty to both charges.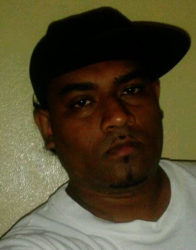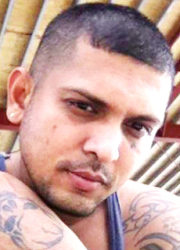 Sabsook, also known as 'Javid' 32, of Samatta Point, Golden Grove, East Bank Demerara, was reportedly in the passenger seat of the car and was returning home sometime around midnight when the accident occurred. Mohamed was said to have been driving at a fast rate when the car was clipped by another vehicle, resulting in him losing control. The car, which crashed into the Distribution Services Limited (DSL) fence, burst into flames minutes after. Sabsook was thrown out of the vehicle and died on the spot.
Mohamed's lawyer, Peter Hugh, in his arguments for bail, told the court that his client is not a flight risk since he cannot walk.
Mohamed had to be lifted into the courtroom by officers in order to answer to the charges.
According to Hugh, Mohamed is also a casualty of the accident, since he sustained burns on both of his legs. Hugh argued that his client needs bail in order to visit the hospital on a regular basis to get his wounds cleaned and his dressings changed. The lawyer said that the prison service cannot meet his client's needed level of patient care and therefore bail should be granted.
Hugh also emphasised that Mohamed has been cooperating with the police since the accident.
Police Prosecutor Kerry Bostwick had no objections to bail, but requested that it include the condition that the accused reports to a traffic officer at the Grove Police Station on Tuesdays and Thursdays.
Magistrate Judy Latchman set bail at $1,000,000 for the charge of causing death and at $10,000 for the charge of driving while under the influence. The matter was adjourned until September 2 for statements.
Around the Web