An autopsy performed on the remains of 21-year-old Kevon McKenzie, whose body was discovered under the broken bricks of a collapsed wall last Sunday, revealed that he died as a result of fractured skull and compression to the chest.
McKenzie, a former soldier of 'A' Field Sophia, Georgetown, was discovered dead under the bricks of an abandoned building located at Quamina Street, Georgetown, on August 14, one day after he went missing.
Stabroek News understands that McKenzie left home on the morning of August 13 to weed the same yard where his body was found, but never returned home.
The discovery was made by his relatives who suspected something was amiss after he did not return home on Saturday evening.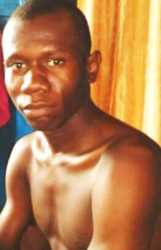 His mother, Waveney Elcock had told this newspaper that the property is owned by a businessman who informed her that he had visited the location around 11 am on August 13 to take lunch for McKenzie.
At that point, the man told her, her son asked to be picked up in the next hour, a time by which he had estimated he would complete the job.
The woman said she was told that when the man returned, he did not see her son and no one bothered to make checks for him. "All they saw was his weeding machine and glasses when they go back and they ain't even ask anything or look for my son," Elcock said.
She said it was not until Sunday morning when she received a call from McKenzie's wife informing her that he had not returned home that she began to search for him.
"I know he went there to work so I start ask the guard next door and he told me that the wall collapse and he don't know if he under there let we go check," she said.
According to her, they searched all over until they spotted his rake. "When we see that we continue to search right there and then we see his foot," she added.
The police were alerted. McKenzie's body, by this time, had already begun to decompose.
Around the Web