The dangers of eating expired food might be open to debate, but selling it isn't.
In Guyana, it is illegal to sell products after their printed expiration dates, although on any given day the Stabroek Bazaar is teeming with both vendors and customers who turn blind eyes to the "Best Before…" dates.
Here, $100 can get you three tins of tomato paste expiring in September but no worries since the vendor will tell you that there is a "lil time left pon it, all you go to do is use it quick."
As for that packet of Ramen Noodles or Cheetos which expired in May, your friendly local vendor will tell you she "don't kay if it expire," and that she is selling "three fuh $100; is not like it gon' kill you; nuff thing does kill but dis never kill nobody. I got nuff regular customers who does buy this every week and dey ain't dead yet."
At the Stabroek Bazaar, everyone, including the authorities responsible for monitoring the sale of food items, is aware that the vendors deal in copious amount of illegal produce, whether expired or illegally imported, but no one acts.
The Government Analyst–Food and Drug Department (GA-FDD), which is mandated to protect the nation from unsafe and substandard food, does not visit. The city's Food Safety Department (FSD) doesn't either.
Vendors have told Stabroek News that while FSD regularly visits the meat section of the market, it doesn't visit the Bazaar.
Severely short-staffed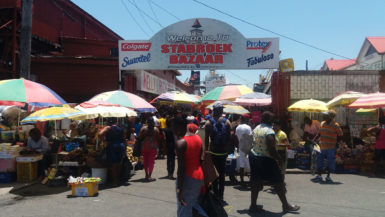 In an interview with Stabroek News, acting Director of the GA-FDD Jewel Sears said that at present the agency has three food inspectors and they have not visited the bazaar since last year. "We are severely short staffed, so we normally visit in the latter part of the year unless we receive a specific complaint, which we investigate immediately," Sears explained.
Meanwhile, Chief Meat and Food Inspector at the municipality's FSD Deonarine Arjune said that since his department is also understaffed, he has not visited the area either.
This will change soon as the Markets and Public Health Committee of the Mayor and City Council has recommended that a meeting be held soon to launch "a campaign to raise awareness about the expired goods being offered for sale for human consumption."
But for now, the 278 vendors in the bazaar seem to represent a daunting prospect for inspectors.
A source at GA-FDD spoke about the verbal abuse suffered by inspectors when they approach vendors. "They always feel we trying to take bread out of their mouths and they make it very difficult to do your job," the source explained. Arjune voiced his wish for protection from the City Constabulary.
"I have three staff members including myself and persons in that area are generally hostile so we would need to go in with constables or get assistance from the Clerk of Markets. As soon as the see us, they start locking up and moving out," he said.
However, a source at the City Constabulary told this newspaper that Arjune has never made such a request.
"At least twice a week, the City Engineer's Department asks us to accompany them to break some building or other. Food Safety Department has never asked us to accompany them to Stabroek Bazaar," the source said.
Unaware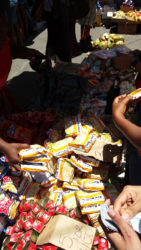 Meanwhile, even as GA-FDD Director Marlan Cole was recently explaining to reporters why his department had refused to clear a consignment of Royal Sea-brand sardines, representatives of the local distributor were soliciting retailers for the product at the Stabroek Bazaar.
One August 12, Cole had explained to reporters that the product had failed to have the name and address of the manufacturing company displayed, which is a clear violation of Regulation 18 of the Food and Drug Act.
One week later, while Cole was on leave, his deputy, Sears, approved entry for the product on the condition that the importer ensure "all future consignments comply with regulations."
Questions were first raised when the GA-FDD examined the free sale certificate which accompanied the request to release the product and found some "inconsistencies." "Several features were missing and there were some discrepancies," Cole had said, while explaining that a subsequent decision by the department to examine the product showed that the labelling did not comply with legal requirements.
"The Act and Regulations guide the response to such a product. It is in violation. The inspectors therefore informed the director that it should not be released for sale on our local market and I have officially informed… customs as to their findings," Cole stressed.
He further explained that subsequent to this decision, his department received communication, purportedly from ABD Khan Company Limited of Thailand, in which that company claimed to be the manufacturer of the product.
"An investigation however showed that ABD Khan manufactures the King Bell brand of sardines and not the Royal Sea brand, which is the [one] we have refused entry to," Cole clarified.
Meanwhile, on Saturday, when Stabroek News visited the Stabroek Bazaar, the Royal Sea brand of products were prominently displayed for sale along with others that had been recalled, such as the Lailac brand of milk.
Vendors said that they were unaware that the product, Royal Sea Sardine, which retails for $100, was in violation of the Food and Drug regulations and admitted that they had not seen an inspector from either the GA-FDD or the city's FSD.
They were also unaware that Lailac milk was being voluntary recalled by local distributor, International Pharmaceutical Agency (IPA) Guyana Ltd.
Though Sears explains that the distributor has communicated with the department that in excess of 5,000 tins of each stage of the product had been recalled, Stabroek News was still able to find it retailing for $1,100 in central Georgetown.
IPA Chief Executive Officer Lloyd Singh had told this newspaper in May that his company had begun removing the product from retailers around the country.
In a series of correspondence beginning on February 11, 2016 and ending on the April 7, 2016 GA-FDD had instructed IPA to "with immediate effect remove from our local market Lailac Infant Milk."
Around the Web