The stepfather of Akeem Grimmond, the 14-year-old who was found dead on Monday afternoon with multiple chop and stab wounds about his body, is calling on the police to ensure the culprit is jailed for life.
Grimmond, who had gone missing on Saturday afternoon after he left home to corral cows that were in the backlands, died of suffocation.
The teen was found face down in a drain some 300 feet away from his Number 61 Village home. According to persons who were a part of the search party, the teen's body was partially decomposed.
A post-mortem examination conducted yesterday revealed that Grimmond died of suffocation. The child is believed to have been still breathing when he was placed in the drain, as according to the stepfather, Ryan Persaud, the doctor who conducted the autopsy said that mud blocked up the teen's lungs, causing him to die.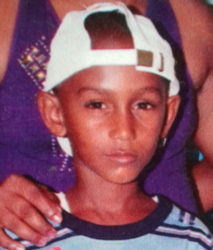 Police are still holding a suspect in custody. According to Persaud, when he found out the suspect in custody would usually be at the backlands, he had warned his son to stay away from him, since the man is a known character.
Meanwhile, residents, who asked to remain anonymous, informed Stabroek News that they saw the suspect coming out of the backlands with a cutlass and muddy clothes late Saturday evening.
Grimmond was a third form student at the Bush Lot Secondary School. According to his parents, he had dreams of studying science and pursuing a career in the field. His parents described him as being a quiet but willing child. "He wasn't a bad child," his stepfather said. "He was always willing to go to shop for anyone in the community," he added.
His mother recalled that he would walk with her to the shop and hug her on a daily basis. "When we does going to the shop, he does throw his hands around me and say mommy come let me hug you up," she said.
The parents have still not come to terms with the death of their son. His stepfather, Persaud, said, "I want justice. My son did not deserve to die like this. I calling on the Minister of Public Security, Khemraj Ramjattan, we voted for you and you suppose to protect us, people like this shouldn't be on the road."
The grieving man added, "I think the death penalty should come back, because I can't get back me son now. I can't even live here anymore 'cause I gone only remember him."
Grimmond is expected to be laid to rest sometime next week.  According to Commander of 'B' Division Ian Amsterdam, investigators are working diligently for a possible breakthrough as to the motive for the crime.
However, residents have come up with their own motives, as according to most of them, the suspect in custody is allegedly a well-known thief. The residents as well as family members are speculating that the teen may have witnessed the suspect committing a crime in the backlands of the village, which led to his demise.
Around the Web