Representatives of the Private Sector Commission (PSC) and the Guyana Manufacturing and Services Association (GMSA) were briefed on Government's plans for the emerging oil and gas sector when they met with Minister of Natural Resources,  Raphael Trotman on Monday.
A release yesterday from the Ministry of Natural Resources said that during the meeting representatives of the Ministry shared the policy, regulatory and institutional frameworks and fiscal structures that will govern the sector as well as plans for capacity building and development to guide its growth. Measures to ensure transparency and accountability were also emphasised.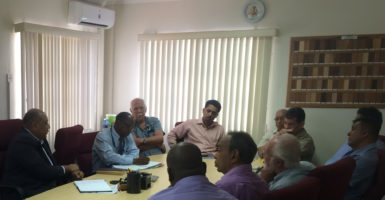 The release said that representatives of the private sector shared their views on Government's plans specifically highlighting the development of local content laws as an area of special interest to them. In reply, the release said that Trotman re-emphasised the importance of local content noting that the government is placing high priority on making it a reality via legislation.
He also noted that draft legislation is already being developed and will be available for review in the near future.
The parties have also agreed to monthly meetings that will serve to clarify areas of concern and build strong networks for collaboration. The meeting was held prior to a similar engagement between private sector representatives and officials of ExxonMobil.
Around the Web