Despite his lawyer's claim that he suffers from a heart condition, the General Manager of a Robb Street business was yesterday remanded to prison on a charge that he attempted to bribe a police officer.
Veerasammy Narine, of 36-37 Robb and Cummings streets, where he both lives and works, was charged with corruptly offering to police Officer Suraj Singh $400,000 as a reward or inducement to show favour to Dennis Veerasammy. Narine pleaded not guilty to the offence, which is alleged to have occurred on August 20, at the Criminal Investigation Department, Eve Leary.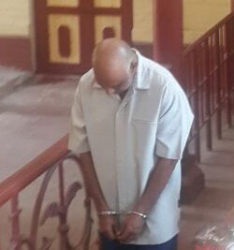 Narine's attorney, Glenn Hanoman, referred to the situation leading to his client's arrest as a mere misunderstanding.
There was no objection to the plea for bail from Hanoman by prosecutor Kerry Bostwick, but bail was nevertheless refused by Magistrate Judy Latchman, who cited the nature of the offence, which she described as being "tantamount to the obstruction of justice" and the defence's "claim" of medical concerns.
No documents had been presented to the court as justification.
Hanoman had earlier told the court that after his client's detainment, the man, who he said had heart surgery earlier this year and is still under treatment, had to be rushed to hospital for medical attention.
The matter was adjourned until August 29.
Around the Web