The Liliendaal Acrow Panel Bridge is slated for a massive facelift.
Bids have been invited for its repair which carries an engineer's estimate of $123M.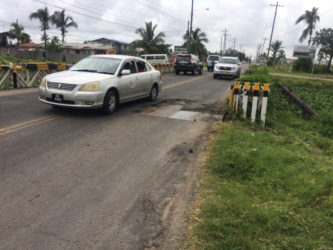 According to an advertisement in the Guyana Chronicle yesterday, the Ministry of Public Infrastructure is inviting bids for the "rehabilitation of the Liliendaal 100' Acrow Panel Bridge."
The duration of the work is expected to be about 6 months. A mandatory pre-bid meeting will be held on the site on August 26.
The bridge was resurfaced more than a year ago at a cost of around $12m but the work has  deteriorated.  When Stabroek News visited the bridge yesterday huge holes scarred the surface from the eastern side to the middle. From the western side the asphalt is eroded, exposing the metal plates. Because of the severe damage to the bridge, drivers would usually have to motor slowly and cross into the next lane in order to pass without damaging their vehicles or making the holes bigger.
Around the Web