The Georgetown Public Hospital Corporation (GPHC) has launched an investigation into the death on Monday of a mother of nine, who sustained a broken leg and was sent away from the hospital twice without receiving the needed surgery.
Dead is Akola Wayne, 41, of 247 Melanie Damishana Public Road, East Coast Demerara, whose relative said her leg was strapped and she was given pain medication on the first visit, but no attention was paid to her the second time around.
Efforts to contact GPHC PRO Mitzi Campbell yesterday proved futile. However, when reached Minister of Public Health, Dr George Norton extended condolences to Wayne's family. The minister also told this newspaper that he was in the process of finding out what really occurred from those who were involved with the care of Wayne and was therefore unable to comment on the situation.
The GPHC later issued a statement in which it said that an investigation has been launched.
Speaking to Stabroek News at her Melanie Damishana home, Jacklyn Wayne said that her sister died at the hospital around 5 pm on Monday.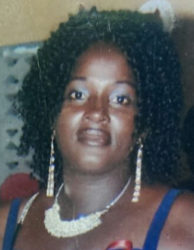 According to Jacklyn Wayne, the reason her sister was at the hospital was because she had fallen in the yard on Saturday morning, breaking her left leg in two places. She said her sister was immediately rushed to the medical institution after the fall. "They give her drips because she had high blood pressure and they just wrap her foot up with a piece of cardboard," the sister explained. She said that the doctor, whose name she could not recall, gave her sister pain medication and scheduled an appointment for surgery on Monday.
The sister said that when they returned to the hospital on Monday, they waited for hours. "When we go, we thought is surgery right away for her since it was scheduled. But they had us waiting long. Since before 7 am we were there and we did not leave till after 4 pm," she said.
When they finally saw a doctor, she said, he told her sister that the surgery on her leg would have to be postponed until the next day and did not offer any explanation.
According to her, Akola told the doctor that she was in severe pain and the pain medication she was given was finished. "They just sent her away. After that long wait, he did not even check her foot nothing at all. Just told us to come back Tuesday," Wayne said.
On the way back home, Akola fell ill and passed out. "When we reach a good way up the coast is like she eye start turning up and we wanted to turn the car around and take her back to the hospital. But like she catch back she self and she said she want come home," the sister said.
However, when they got home, Akola fell ill again and this time froth was coming from her mouth. "We rush her back [to the hospital]… when she reach now a next waiting [before] they finally admitted her and that was when they started to pump her chest, but she died," the sister said.
The grieving sister, who was visibly shaking whilst speaking to Stabroek News said she felt the long wait and the postponing of the surgery killed her sister.
She said the GPHC staff played a part in her sister's death since they did not give her the proper care that she needed. "I think that my sister foot was infected and that too killed her because they did not look at her proper. But they claiming is her heart. She never had no heart problem, it was just this lil pressure which she find out late…," Wayne said.
Akola's nine children who are between the ages of 24 and seven years old, are also mourning the loss of their grandmother, who had been sick and died on Friday last.
Wayne said on that very day her sister died she had to witness the post-mortem examination of her mother. She said family members are finding it hard to come to grips with the deaths of their mother and sister.
Wayne said that after her sister's post-mortem examination on Friday, she and her mother will be buried together.
Akola was described as a very jovial, easy going and calm person by her relatives.
Around the Web