In an effort to curb the high incidence of violence at the community level, the Ministry of Public Security in partnership with the Inter-American Development Bank (IDB) launched the first component of the Citizen Security Strengthening Programme (CSSP) yesterday in South Ruimveldt.
According to Public Security Minister Khemraj Ramjattan, some US$3 million will be expended on this component of the programme to provide technical and vocational education and training to approximately 4,000 at-risk youth over the next four years.
This first component, the minister said, is a grassroots programme designed to address crime and violence at the community level by reducing the contributing factors while at the same time strengthening the protective factors.
Ramjattan noted that the crime problem in Guyana is compounded by a high incidence of violent behaviour at the community level. "We just recently learnt of the 13-year-old who was involved in a violent attack which ended in his death and weeks prior another youth killing three persons in the company of his father at Mibicuri, Black Bush Polder," he said.
The minister went on to state that crime and violence are development issues because they both stymie national and human development and our peaceful co-existence. "The increase in crime and violence have forced us to divert resources from other priority areas such as education, health and social services," he said.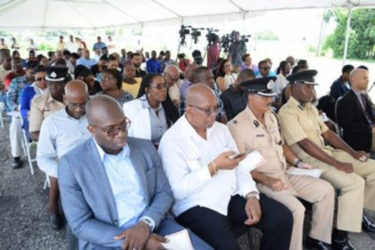 Of concern to the Government is the fact that the face of crime and violence, in a substantial way, are those of adolescents and youths who are both perpetrators and victims and who should be in school or otherwise gainfully occupied. "The age cohort 0 to 29 years represents more than half of our population and therefore emphasis must be placed on creating opportunities and the enabling environment so as to reduce the 40 per cent youth unemployment rate so that they can reach their full potential," the minister stated.
He added that in Guyana, particularly over the last decade and a half, crime and violence have become legitimate concerns for everyone. Citing statistics, the Public Security Minister said that Guyana's homicide rates have dramatically increase since 2000 from 9.9 per 100,000 inhabitants to 19.9 per 100,000 inhabitants in 2014.
According to the minister, since he took office he has discovered that there is social cohesion when communities actively participate and partner with the police force. "Communities then feel empowered and self-confident and creatively solve problems to their satisfaction. All of a sudden it seems there is a new found altruism and trust to create solutions, rather than being passive recipients in a welfare state," he stated.
Giving an overview, Community Action Specialist Mark Ross told the gathering that while 25 communities with the highest crime rates in Guyana were initially identified to benefit from the programme, that number was shortlisted to 20. These include Vreed-en-Hoop, Albouystown, Charlestown, Sophia, South Ruimveldt, Alberttown, Kingston, La Penitence, McDoom, Providence, Annandale, Buxton/ Friendship, Enmore, Rosignol, Friendship, Albion, Port Mourant, Adelphi Village, Angoy's Avenue and Wismar.
According to Ross, this first component will seek to address the high incidence of violent behaviour that exists at the community level. He added that some 300 youths will benefit from entrepreneurial training and they will also be supported with small grants to facilitate small business startups. "Youths benefiting from the programme will be provided with both financial and non-financial support for the duration of the training programme," Ross said.
Additionally, Ross said, each youth will be given approximately US$70 per month which will cover transportation costs to and from school, meals and other expenses.
Teenage mothers and fathers he said, will also be provided with additional resources to cover day support.
Also present at the launch were key stakeholders. Minister of Finance Winston Jordan, Deputy Director of Prisons Gladwin Samuels, IDB Representative Sophie Makonnen, Junior Minister of Education Nicolette Henry and Deputy Mayor Sherod Duncan all gave brief remarks underscoring the need for and importance of such a programme at this time.
The US$15 million programme was launched January last and the IDB Guyana office in a press statement had said that the programme "will contribute nationally to reducing crime and violence through a comprehensive approach that combines preventive strategies with institutional strengthening activities."
It stated that the government of Guyana "is placing significant resources to address challenges such as rising homicide rates, robbery rates that significantly exceed global averages and frequent cases of domestic violence."
The CSSP, which follows a Citizen Security Programme, will be executed through a Project Implementation Unit within the Ministry of Public Security, the IDB noted.
Around the Web