The Quartzstone mine to be operated by Sun and Sand Mining Resources Inc will not use any mercury or other reagents but will use new technology to ensure gold recovery of at least 90%, the project's head Mukesh Arora told a poorly attended scoping meeting in Bartica on Monday.
"Zero mercury. There won't be any use of mercury anywhere," he emphasised, while adding that the company will make use of new technology, a Superminer machine that was developed and marketed by a company in Thailand, which will ensure gold recovery of at least 90%. He said that the machine does not require mercury.
The scoping meeting at the boardroom of the Region 7 Regional Democratic Council was poorly attended and apart from Environmental Protection Agency (EPA) officials and others connected to the project and sector agencies, there were only four other persons at the meeting including Region 7 Vice-Chairperson Olinda Griffith and mining advocate Sherwyn Downer.
Both Griffith and Downer expressed concern at the absence of stakeholders and suggested that the scoping meeting should have been held closer to the project site, at Itaballi. However, it was pointed out that Bartica was a central point and the meeting was advertised and it was up to any interested persons to make the effort to attend the meeting.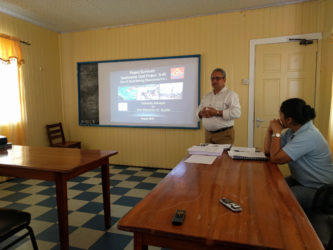 The meeting was part of the environmental permitting process for the mine. Sun and Sand has proposed a US$12 million open pit gold mine in the Cuyuni/Mazaruni. Named the Quartzstone Gold Project, B-45, the intended mining operation is expected to have a life expectancy of 85 years, during which time initial capital expenditure for construction is projected to be in the order of US$10M, with another US$2M for sustaining capital over the life of the mine.
Sun and Sand Mining has already acquired 12,512 acres of land for its proposed project though an arrangement with owner of the quarry company, BK International, Brian Tiwari. The company anticipates that with a target of 41,900 tonnes of gravel per month, it will garner some 44kg of gold monthly.
Senior Environmental Officer Teijvarti Persaud said that the EPA had received an application from Sun and Sand in December 2014 to do gold mining. After assessing the proposed project, the EPA determined that an Environmental and Social Impact Assessment (ESIA) was required.
Arora said that the company has mining operations in several countries including Uganda, Ghana, Nigeria, India, and Guinea. This is the firm's first mine in Guyana. He said that the company will recover gold using the Superminer and said this is the first time the technology will be used in Guyana and South America. He said it has been used in Guinea before.
According to Arora, no mercury will be used and gold recovery will be at least 90% using the process and this will benefit the nation. He said the area has good prospects for alluvial mining as well as hard-rock mining. As it relates to hard-rock mining, the company will continue to do research, he said.
Arora declared that Sun and Sand is a responsible mining company. He said that between 42 – 45 persons will be employed.
Engineer Charles Ceres, who is leading the ESIA process for the company said that most of the baseline work has already been done. He said that Bartica will serve as one of the primary gateways for servicing the project. "We will not be using mercury or any other reagents," he said while adding that water will be recycled and harvested from the starter pit as the company progresses in mining.
During the time allotted for members of the public to raise concerns, Griffith said she would have liked to see small miners present as they would know what is happening on the ground. "This is not scoping, this is not meeting the people," she declared.
However, Ceres said if the miners had an interest, they would have been at the meeting.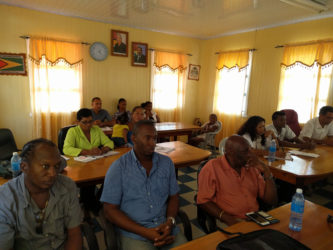 Downer said he was disappointed that there were not more participants and said that the EPA should have taken the consultation to Itaballi Landing. Ceres responded that it was the responsibility of the people of Itaballi to find themselves at the meeting. He added that Downer could also raise his concerns at the meeting.
After further similar exchanges, Griffith emphasised the need for the company to ensure proper health and safety measures and to respect its workers. She also requested that some form of education or training be provided to youths.
Downer welcomed the company as he said employment will be created but said that he hoped that priority will be given to Barticians.
Arora responded that the requests will be considered while Persaud said that the comments made will be taken on board.
Sun and Sand Mining is an affiliate of Sun and Sand Hotels, which had planned to build a US$54 million five-star hotel and casino at Liliendaal, East Coast Demerara before that project stalled.
In 2014, the company had told Stabroek News of its interest in gold mining. Director of the Sun and Sand Group of Companies Bhushan Chandna had told this newspaper in July 2014, that the company was moving ahead with diversifying its business ventures in Guyana beyond the planned hotel at Liliendaal.
Chandna had revealed that the Indian company would be applying for a mining licence and had already applied for a logging licence although he could not say when exactly the paperwork was sent in.
With the hotel project stalled questions are likely to arise about the application for mining authorisation. There is a widely held view here that many companies are coming here with promises of large investments in hospitality and value-added timber but who are really interested in logging and mining.
Around the Web