The police on the Essequibo Coast are conducting investigations into the death of a Better Success rice farmer, who was reportedly killed by his sister in an act of self defence.
Maxton Orlando Lawrie, 30, died around 1am at his home, where he had a confrontation with family members.
According to the police, the parents of the dead man, Maxwell and Tosomattie Lawrie, his sister, Stephanie Lawrie, and his wife, Tricia Narine, were all at home when the altercation occurred.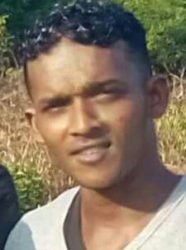 Tosomattie Lawrie told the police that her son would habitually return home drunk and would verbally abuse his sister.
These prior incidents were reported to the police.
In the wee hours of Thursday morning, a drunken Maxton went home and started to abuse his parents and his sister.
He allegedly dealt his father a cuff to his face, after which he went to the door of his sister's room and kept knocking. He demanded that she open the door and started calling her names.
As a result, she eventually opened the door and an argument ensued.
At the time, Maxton was armed with a knife, which he reportedly raised to his sister and, in an act of self defence, she allegedly pushed him, causing him to fall forward on the knife, which resulted in him suffering a fatal stab wound to the abdomen. Stephanie then began to scream and alerted her family to what had occurred.
Maxton Lawrie was immediately rushed   to the Suddie Public Hospital, where he was pronounced dead on arrival by a doctor.
His body is at the Suddie Mortuary awaiting a post-mortem examination.
Statements were taken by the police from the family members and Stephanie Lawrie was taken into police custody.
Around the Web